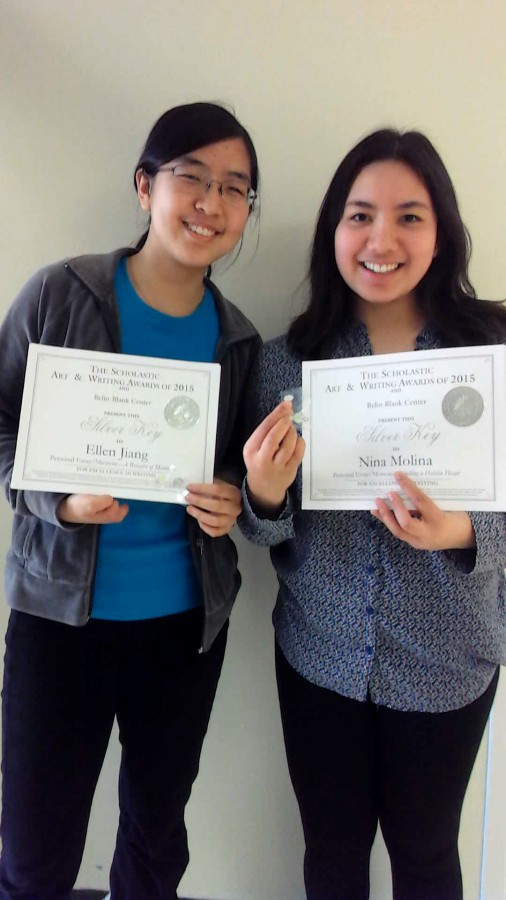 Ms. Lopez
In December 2014, students from various English classes worked with their teachers to decide what pieces of poetry and prose they should submit to the Scholastic Art & Writing Awards Contest. On Feb. 28, seven students were honored by their teachers with either gold or silver key awards and honorable mentions.
A full list of winners and their teachers:
Junior Saadia Elahi for "Baby Steps" (Mrs. Chandler)
Junior Ellen Jiang for "A Bracelet of Memories" (Ms. Lopez)
Junior Nina Molina for "Unveiling a Hidden Heart"  (Ms. Lopez)
Junior B.J. Ryan for "Free-Range Sand" (Mrs. Chandler)
Junior Craig Smith for "Morales of a Dead Man" (Ms. Lopez)
Sophomore Selin Turkyilmaz for "On Beauty" (Mrs. Palmer)
Junior Annie Zaher for "A Small Victory" (Mrs. Chandler)
Central's young authors' "Honorable Mention" prizes.
Junior Saadia Elahi for her personal essay "Turning Pages" (Mrs. Chandler)
Junior Ellen Jiang for her personal essay "A Different Normal" (Ms. Lopez)
Sophomore Nina Molina for her poetry collection (Ms. Lopez)