"Hubie Halloween" takes over Netflix this fall season
On Wednesday, Oct. 7, Netflix released a new Netflix original movie titled "Hubie Halloween." This PG-13 film has a comedic and lighthearted mood, making it a great movie for people of all ages to watch during the spooky season.
"Hubie Halloween" is based around the character Hubie Dubois, a delicatessen worker in Salem, Mass. played by Adam Sandler. Hubie Dubois is a comical character who is constantly made fun of for his odd behavior. As the official "Halloween Helper," Dubois is required to monitor the city on Halloween night. A job Dubois thought would go smoothly soon turns into a real disappearance investigation, putting the townspeople in great danger, and it is up to Hubie to save Halloween.
This movie was produced by Adam Sandler and Tim Herilhy and was directed by Steven Brill, all esteemed individuals in the film industry. Something unique about "Hubie Halloween" is its cast, as many new and returning popular actors are featured. Some include Sandler, who is known for his work in numerous comedy movies such as "Grown Ups"; Noah Schnapp, known from his role of Will Byers in "Stranger Things"; Kevin James, who is best known for playing Doug Heffernan in "The King of Queens"; and, China Anne McClain, who is best known for starring as Chyna Parks in the Disney series "A.N.T. Farm."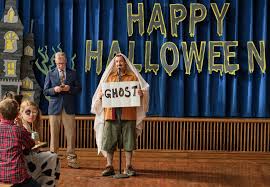 "One thing that interested me in watching the movie was its actors and actresses," said Matas Andrikonis, sophomore. "Adam Sandler and Noah Schnapp are two actors I am very familiar with and I have loved their previous films, so I definitely plan on watching 'Hubie Halloween' soon."
"Hubie Halloween" has a rating of 5.2 stars out of 10 on IMDb and 48% ratings on Rotten Tomatoes, but its popularity still seems to be increasing among Netflix users despite these lower ratings. "Hubie Halloween" has officially been placed on Netflix's top ten list along with other newly esteemed movies.
However, not all viewers enjoyed the film.
"I did not enjoy watching 'Hubie Halloween' because the plotline of the movie wasn't engaging and the movie wasn't very comical," said Lainie Brixie, senior.
To see if you like its slapstick comedy, you can watch "Hubie Halloween" on Netflix with a monthly subscription.
Leave a Comment
About the Contributor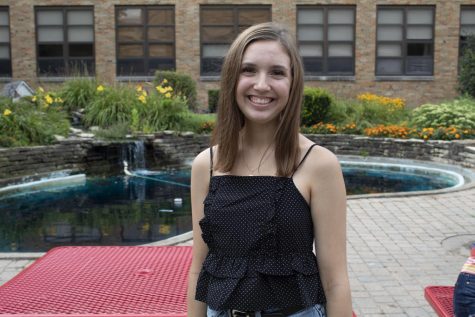 Meghan Malec, Section Editor
Meghan Malec is a senior who can be found hanging out with her friends and binge-watching Netflix shows in her free time. Her free time, however, is very...