The Long Haul
Alexa Haff sacrifices, food, friends, and freedom to do what she loves.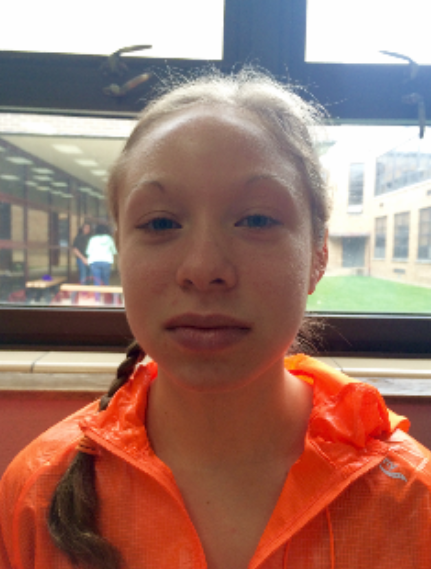 Sporting a pair of fuchsia Nikes and a signature red bow, sophomore Alexa Haff turns the final corner of her three-mile run, five seconds ahead of her closest adversary.  With every stride, her slick braid swishes like a pendulum in the breeze, in tune with her thrusting, toned arms.  She's one of Hinsdale Central's top runners, and she's leading yet another race.
Haff started running in grammar school, when she initially only played soccer.  "I started cross-country and track in sixth grade, but I was actually injured after the first meet. So my first full year was really in eighth grade," Haff said.
Ever since then, Haff has committed herself to running.
Jessica Lee, sophomore, recalls Haff's dedication to the sport, even in eighth grade. "[Haff] was always on it," Lee said. "She lives in my subdivision, and I always saw her running; rain or shine, she was out there."
Throughout the year, Haff practices with her team. She trains every weekday plus several hour Saturday tournaments. Over the summer, she has 7 a.m. practices Monday through Sunday.
Managing schoolwork with her training is not an easy task.  With a seven hour school day, followed by a three hour practice, Haff must make room for her rigorous course load, time to sleep, and to fuel for the next long day.
"It's hard," Haff said.  "You have to manage your priorities and know that school comes first."
On top of schoolwork, Haff manages what many take for granted: food.  On a typical school day, she will arrive at the cafeteria ten minutes later than the average student after a quick talk with her coach.  She'll take a seat at a table by the windows, gingerly wiping off the crumbs swimming in pools of spilled milk, before unzipping her pink, floral Vera Bradley.
Haff pulls out a plastic baggie filled to the brim with sliced red and green peppers.  On the side is her homemade curry sauce.  Her main diet agenda is cutting out sweets, but the next step is eating whole foods, like oatmeal and vegetables. 
"I actually don't like soda, so that's one thing I don't have to worry about," Haff said.
Her devotion to diet is not just to maintain her body, it also helps her mental health.
"You just feel better, and it's better for you. I think it's mental also," Haff said.  "You know you're eating well, so it makes you do better, kind of like a placebo."
It's not free time or food that Haff has the most trouble sacrificing.  It's friends.  With her strict schedule, Haff's only free day is Sunday, when she finds that most of her friends are busy finishing homework.
"I really don't ever get together with friends, so it's really hard, but I like my teammates," Haff said. "They're like my sisters."
Despite the sacrifices, Haff loves what she's doing.  She's learning discipline and hard work and has support from her family, coaches, and teammates, who are always the first to congratulate her when she gets a PR (personal record).  Her plan is to continue through college, hoping to stay healthy, motivated, and committed to make the dream possible.
"I'd like to thank my teammates and my coaches and my family.  Thank you all for supporting me," Haff said.
Leave a Comment