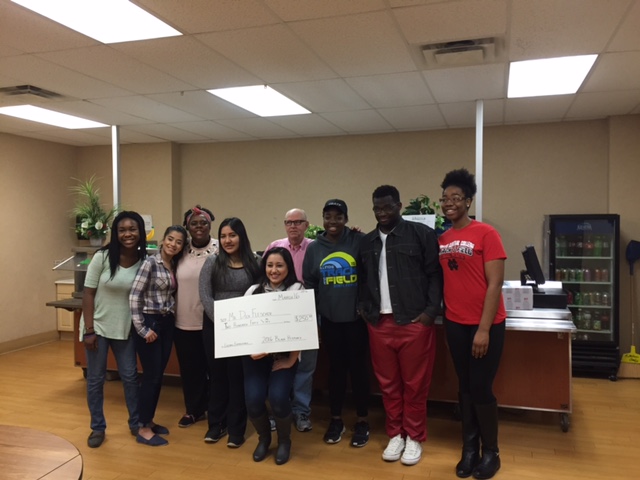 Mrs. Powell
As a part of Central's 10th anniversary of celebrating Black History Month, a team of students led by Mrs. Powell decided to raise money to buy the school's old orchestra instruments and donate them to Lazaro Elementary School in the city. The school has a music program and music teacher, but no instruments. Mrs. Powell was contacted by Dick Fleisher, a former science teacher at Central, who now runs his own philanthropy to help schools in need.
At first, Powell says that they were told they would have to have a bid war to be able to buy the instruments. According to her, Mr. Fleisher was told he would maybe only get three or four bids. This was when she realized she needed to get the committee involved.
To raise money to buy the instruments, volunteers sold leftover t-shirts and buttons from Black History Month. "We tried to liquidate the revenue," Powell said. Over all, they raised $350, $250 of which was able to go into buying the instruments, while the other $100 went towards various Black History Month funds. The instruments were roughly one dollar each.
"We want to set the example for our students that you must give back to the less fortunate," Powell said. At the same time, she notes that their gift of giving was respectful to the theme of black history. "We felt if there was something that the group could do to give to someone else we could maintain that same spirit."
When thinking about her work with for the Black History Month celebrations at Central, Powell is very passionate. "When all of this is over with… it's not going to be about how fancy our celebration was. People will remember what we did, for sure. The main thing that will be remembered for years and years, is that people try to do something to help somebody else," Powell said.
On April 6, the Black History Month committee presented a check to Mr. Fleisher in the school cafeteria. In the near future, Powell would like to take a half-day trip to Lazaro to see the effect their kindness has had on the children.
"Those kids over on the south side of Chicago that will be the recipient of this may not know us, but they'll say 'somebody made it possible for us to have something we weren't able to have before,'" Powell said. "That's the bottom line for me."