Griffin Walsh wins Mr. Hinsdale
On Thursday, March 10, the annual "Mr. Hinsdale" competition took place and crowned its winner, Griffin Walsh. Walsh and six other boys had been practicing dances and their own unique talents every Friday morning since early December after an interview with Annette Cuipek and Emmet Kelly. After interviewing, it was up to them to come up with the talents, songs they would lip sync and what they would wear.
"Student council initially nominated 30 people and then we narrowed it down by conducting interviews," said Annete Ciupek, host of Mr. Hinsdale. "Those boys who chose to interview, we asked them a series of questions to get a gauge of their personality and what they planned on doing in the show, and based on their responses, we narrowed it down to eight contestants, but there ended up being seven because one boy had to resign midway through.,"
Griffin Walsh was one of the seven final contestants that got chosen.
"I interviewed with Emmett and Annette to see if I would be a good candidate, and they asked a bunch of questions about why I want to be Mr. Hinsdale, and then some funny questions for the posters," Walsh said.
After being interviewed, Griffin and the other contestants had begun the process of learning the opening dance for the competition by the courtesy of pommers Sarah Jane Nicholson, Taylor Fodor, and Kylie Furlong. Apart from the dance, the competitors also had to decide what lip sync and talent they were going to perform.
"It was awesome. I had to perform lip sync and talent. For my lip sync, I did '1000 Miles' by Vanessa Carlton, and for my talent I did a drum solo from the band Led Zeppelin. I've been preparing the solo for a long time, probably about seven or eight months, but I didn't know I was going to be playing it at Mr. Hinsdale. I've been learning it for fun for a while," Walsh said.
While on stage, Walsh did not let nerves get in the way of having a good time.
"It's funny, I was much more excited. I played with my buddy Finn, and whenever we play together I always feel comfortable. I think he sounded great, and was the perfect accompaniment I needed, it was so much fun," Walsh said.
The audience also really enjoyed Griffin's performance.
"It was great. I loved both Griffin and Connors performances. I'm a big fan of Led Zeppelin so I really liked it. I think he did a pretty good job of doing them justice with his song," said Mason Beringer, senior.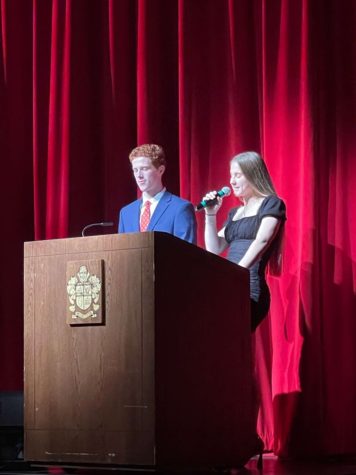 It had been the first real Mr. Hinsdale in two years due to COVID-19, and turnout was high.
"The show up was pretty big. Over a hundred people for sure. Not really sure on numbers but 'Mr. Hinsdale' is always one of the biggest events that is put on," Ciupek said. "The [turn out]was more than expected because we hadn't had this for two years, so it was awesome to see it brought back and see students, teachers, and parents come out."
Although there was one winner, all the competitors were happy to take part in the competition.
"This was by far one of the closest-knit groups we've ever had. They all got along so well and constantly supported each other, constantly put in the work at dance practice in the mornings and really made it fun for everyone," Ciupek said.
There were some who were confident in Griffin before his performance.
"I knew Griffin was going to win as soon as the people announced who was running for Mr. Hinsdale," Beringer said.
For more photos from the night of Mr. Hinsdale, visit this instagram page. 
Leave a Comment
About the Contributor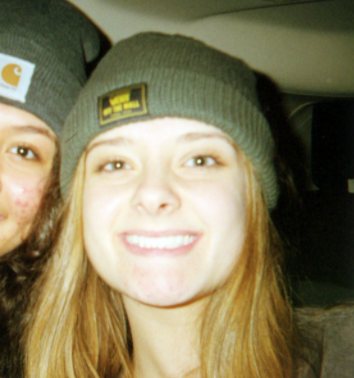 Emma Klein, Writer
Emma Klein is a senior writer, and she's so excited to write for Devils' Advocate this year. Besides writing, she likes to spend her free time with...