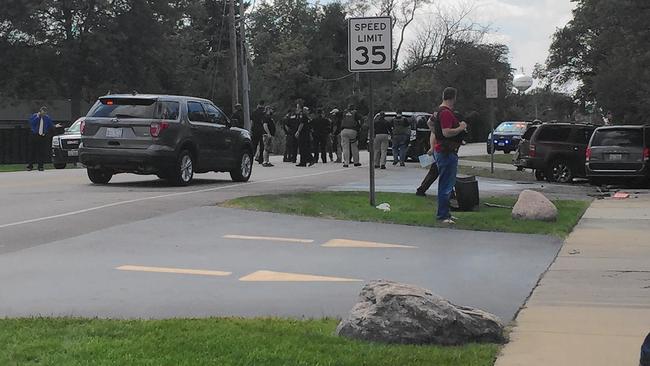 Courtesy of Chicago Tribune
On Thursday Sept. 14, Lyons Township High School (LT) went under a lockdown due to a police chase which ended in a crash that occurred in close parameters to the La Grange campus.
Both campuses of LT were under this lockdown, as well as the area's middle and elementary schools. The school went on a "soft" lockdown which meant that no one could go outside the building or come inside, and classes within the building also were locked.
"Each classroom had to lock its doors, shut windows, drop blinds, and we couldn't leave the room without a security guard escort," said Natalie Metsch, senior at LT. "We stayed in our sixth-period class for the rest of the day, and no one could enter or leave the building."
According to the Chicago Tribune, the lockdown was initiated after the U.S. Marshall and the Chicago Police suspected a vehicle with a passenger that was charged with both federal and state probation violation. The police attempted to stop the car but instead ended up chasing them through the La Grange area.
The chase ended with a crash and the individuals in the car tried to flee the scene. LTHS posted on its website, during that time, that three people were caught from the car while one left the scene. However, it is unclear the final status of the situation.
"We weren't told what threat was around probably to keep us from panicking. My teacher told us how she saw the cars drive by her in downtown La Grange going 80 [mph] while two police cars chased after them," said Anna Satala, junior at LT. "We all ended up looking up what was happening and got more information on our own."
The lockdown was lifted at 3:10 p.m., delaying the buses and after-school activities. The school warned students to be aware when going home of any suspicious activity.
"I thought it would be for only 20 minutes or so but honestly I was hoping it would last longer because it turned into a two-hour study hall," Metsch said.
Although Central lies in close proximity to LT, it was not put on lockdown because the accident occurred near the intersection of Brainard Ave. and Plainfield Rd., which is far enough away that there was no imminent threat. However, the school is still prepared for the situation.
"Our protocol would depend on the situation; we would get information from the Hinsdale Police Department or the school resource officer and then decide what protocol we would follow," said Ms. Kimm Dever, director of deans.
If something like this were to happen near the school, the protocol would have been similar to that of LT. The main goal for both schools is to keep the students safe from criminal activity that may be going on close to the school area.