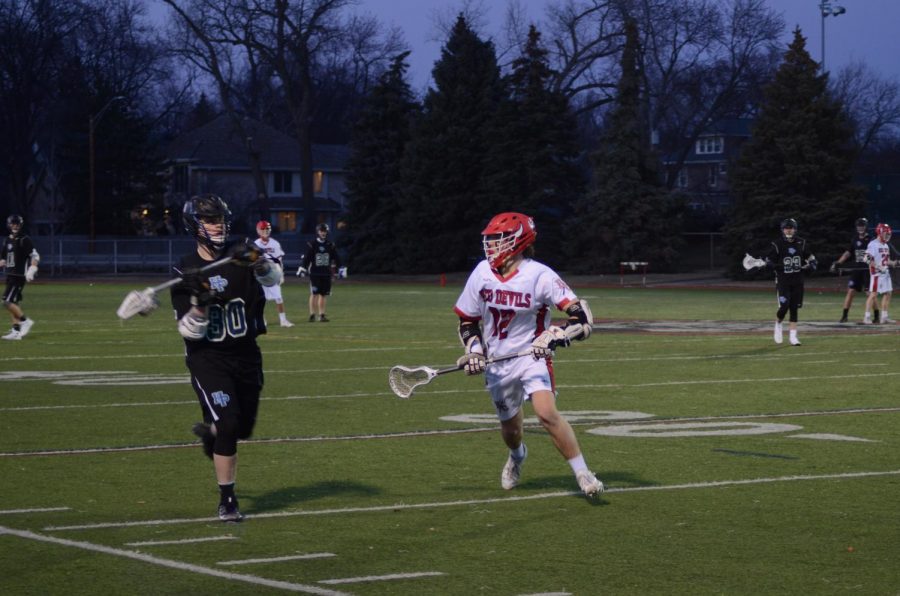 Marelena Halikias
The boys lacrosse team started their season on Wednesday, March 14 at home against Highland Park High School. The team won 15-3.
The Red Devils got on the scoreboard first with a goal by Joe Northey, senior. The team then rolled through Highland Park during the first half as they took a demanding 10-2 lead at halftime.
"We came out swinging," said Parker Bailey, junior. The intensity was high and we were able to shut down Highland Park from the start."
The team netted five more goals in the second half, securing its first win of the season.
"15-3 doesn't happen a lot, we scored often and protected our home turf," said Tate Renner, junior.
The team did not only excel on offense.
"Our face off guys, [seniors] Lucian DiPofi and Owen Hare dominated," Bailey said. "[Sophomore] Jack Cain was also very vocal and led the defense as usual."
The game was the beginning of a season filled with high expectations set by the coaches. Entering the season, the team was ranked the sixth best team in Illinois.
The team is returning eight starters from the 2017 season, and it is led by multiple committed college athletes. The offensive group is headed by Peter Madden, senior, who's committed to University of Tampa, and Danny Karbowski, senior, who's committed to DePauw. Cain, junior, who's committed to Dartmouth College, leads the defensive unit.
The team's next game will be home against Naperville Central on Tuesday, March 20. Following that, the team will head to Casa Grande, Ariz. for spring training and games against schools from Oregon, Colorado, and Minnesota.
"The schedule is packed, but it should still be fun," said MJ Cook, junior.