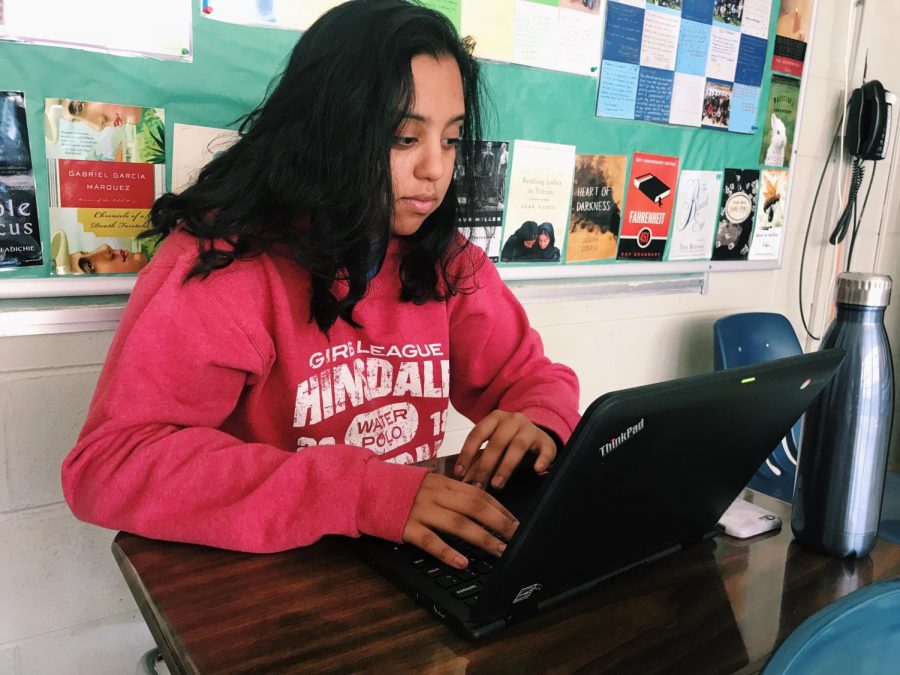 Hajera Naveed
This year, the D86 district implemented a new 1-1 policy regarding Chromebooks, meaning each student was given a Chromebook and they are now a required material for every class. The Chromebooks are part of the district's initiative to get students to interact with technology, which was a conversation that had started five to six years ago within the administration.
"We are trying to help students become better digital citizens which will prove very beneficial for them," Principal Walsh said. "If we look at the way we operate in the world today, technology has become a huge part of our lives both in professional and personal aspects, so providing students with the skills for adapting to is essential."
Freshmen through juniors received a new version of the Chromebook that came with a stylus, making it easy to take notes electronically. Seniors received older Chromebooks that had been used in classrooms the last two years. The Chromebook may replace textbooks and notebooks in the future, but the administration recognizes it will be a slow transition.
Students essentially paid for part of the Chromebook through the digital fee collected at the beginning of this year. Students last year and the previous year were also asked to pay a collective amount between $300 and $400 so that ownership of the Chromebook can be granted by the time students are seniors.
There still, however, might be a nominal fee that seniors have to pay to keep the Chromebooks, but if they choose to return it to the school, they will not be refunded. The Chromebooks cost about $600 each to the school, including the charge of additional programs added.
The Hinsdale district was one of the last schools in the area to adopt the 1-1 policy with Chromebooks, said Mr. Lapetino, District Director of Instructional Innovation,
"It's easy to use because we have used them a lot before in classes, but I still think its a nuance to carry around with us all the time," said Fatima Mubarak, junior. "But if the goal is to replace textbooks and everything else we carry in our backpacks I think it would be much better." 
To optimize the use of technology in the classroom, the district offered teachers training and professional development to become familiar with the technology and the options they have. This year many teachers have created an online platform for their class, often with Google Classroom or Canvas.
To assist students with the Chromebooks, a new class called TSI was created to staff a help desk in the library. Students from this class get credit to work at the help desk and along with that, learn more advanced technology and get experience with fixing problems. This year, the class runs periods 1,2 and 10.
As the year continues, the district hopes to get students more comfortable with the Chromebooks by increasing their uses in the classroom.
"Our major goal is to continue to implement effective use of technology in the classroom," Mr. Lapetino said. "By pairing the right tool for the right task, we feel strongly that students and teacher will benefit greatly."