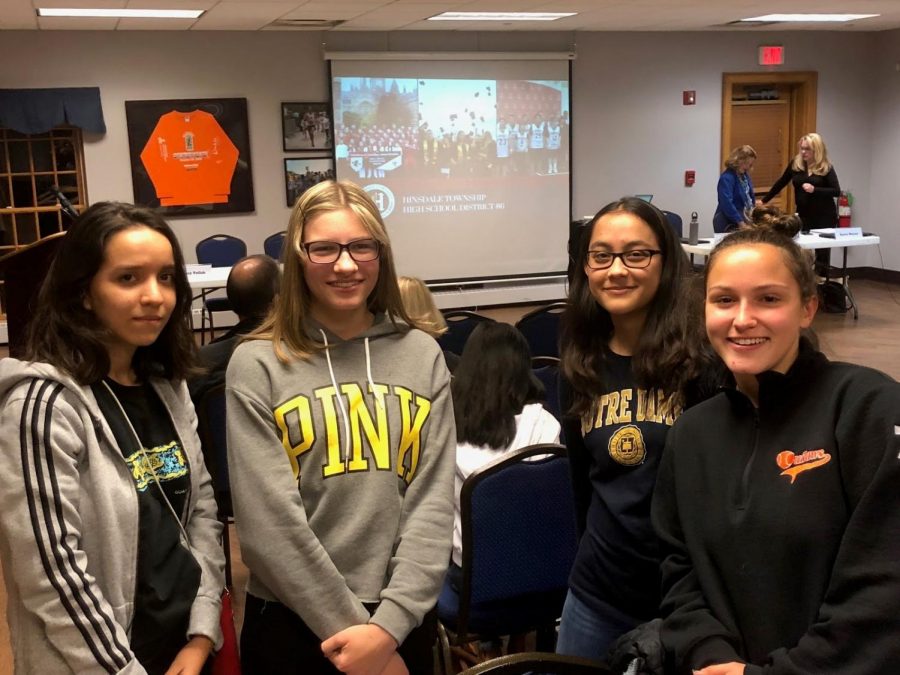 courtesy of Lainey Harvey
A question and answer style meeting was held on Wednesday, Oct. 17 at the Community House in Hinsdale to discuss the referendum vote on Nov. 6.
Many parents, students, and local residents attended the meeting to learn more and ask questions about the referendum. The panel of question-takers included, Dr. Bruce Law, superintendent of District 86, Bill Walsh, Hinsdale Central principal, Arwen Pokorny Lyp, Hinsdale South principal, board members Jennifer Planson and Nancy Pollak, and Karen Warner, communications director for District 86.
The referendum plans to reconstruct multiple areas of Hinsdale South and Hinsdale Central. If passed, the referendum will cost $166,526,514.
To start the meeting, Dr. Law presented what the referendum was, and how the two schools will be updated if it is passed. Dr. Law explained what voters will see on the ballot in the upcoming election.
"[The school board] arranged the language in such way that we wanted to put the most important things on there first," Dr. Law said.
The first things listed on the referendum include more security systems and equipment, making facilities accessible for people with disabilities, repairing a 60 year old infrastructure, and more.
Dr. Law brought up the size of the band room rooms and explained how the band program at both schools are getting larger and the rooms are not big enough to hold everyone.
"We don't even have all of the orchestra practice together because there is not enough room," Dr. Law said.
At Central, there is one band room that fits a total of four bands. All together there are more then 300 students in band.
"The room is very small and does not fit all the students; when we have to put stuff away there's always kids jumping over chairs and stepping on people's stuff and it's very hard to move around," said Helene Friedman, junior and band member at Central.
After Dr. Law's presentation, the audience got a chance to ask questions anonymously.
One question asked why the district can't tear down both school and rebuild them. Dr. Law responded and said that would cost at least $457 million for each school.
One resident asked a question regarding student performance levels and if they will increase if the referendum passes.
"I think we will (see an increase) and we will be more effective in working with students," Dr. Law said.
Many asked questions about certain areas of the renovations involving the pool, the hallways, the tennis courts and the security. Most answers included information on concerns for limited space, safety, and compliance with state standards.
If the referendum passes, construction would begin in the summer of 2019 and the estimated time of finishing is August of 2021, according to Dr. Law. Students in sixth grade, as of today, will arrive to Central or South with full renovations completed.
The referendum will be on the ballot in the upcoming election on Nov. 6.