States weigh when to cancel lockdowns
On Thursday, April 16, President Donald Trump and fellow members of the White House Coronavirus Task Force unveiled a new three-phase plan to reopen states as the Coronavirus curve starts to flatten.
Trump has long been an avid supporter of reopening the economy, especially as the number of unemployed Americans skyrocketed to 26 million, accounting for approximately 20 percent of the nation's workforce. The levels of jobless Americans have not been this high since 1982 when the unemployment rate hit 10.1 percent. The highest unemployment occurred in 1933, during the Great Depression, and hit 24.9 percent.
According to the official plan guidelines, each state must meet a certain set of criteria to qualify for reopening. States must report a decline in Coronavirus cases for 14 straight days, and hospitals must not be inundated with an influx of patients that will precipitate the compromise of effective health care.
Given that all the criteria points are met, state governors may choose to loosen their lockdowns by following the three-phase recommendations made by the White House. These include eventually opening up non-essential businesses, loosening social distancing guidelines, returning to work and school, permitting non-essential travel, allowing larger venues, among others.
While governors have the authority to determine local health restrictions and guidelines, their autonomy was called into question by Trump's assertion that he had "total" power to force states to open.
"The president of the United States has the authority to do what the president has the authority to do, which is very powerful," Trump said. "When somebody is the president of the United States, the authority is total, that's the way it's got to be."
….It is the decision of the President, and for many good reasons. With that being said, the Administration and I are working closely with the Governors, and this will continue. A decision by me, in conjunction with the Governors and input from others, will be made shortly!

— Donald J. Trump (@realDonaldTrump) April 13, 2020
Trump's claims provoked massive backlash, with many critics pointing out that the Constitution gives the president no such authority, and that his statements contradict the Tenth Amendment. Former Vice President Joe Biden, Trump's rival in the 2020 presidential race, denounced Trump's handling of the Coronavirus pandemic.
"I am not running for office to be King of America. I respect the Constitution. I've read the Constitution. I've sworn an oath to it many times," Biden said. "I respect the great job so many of this country's governors—Democratic and Republican—are doing under these horrific circumstances."
Americans of all political stripes have criticized Trump's rushed approach to opening the country, especially as he has undermined states' rights and the recommendations of health experts, who caution a slower return to normalcy.
The constitution doesn't allow the federal gov't to become the ultimate regulator of our lives because they wave a doctor's note. Powers not delegated are RESERVED to states & the PEOPLE. If we dispense with constitutional restraints, we will have more to worry about than a virus

— Senator Rand Paul (@RandPaul) April 14, 2020
Protestors in several states ignored social distancing guidelines to congregate in front of state legislatures across the country to demand a relaxed approach to the virus. Michigan protestors touted Trump campaign posters and Confederate flags as they criticized Michigan Governor Gretchen Whitmer's lockdown restrictions.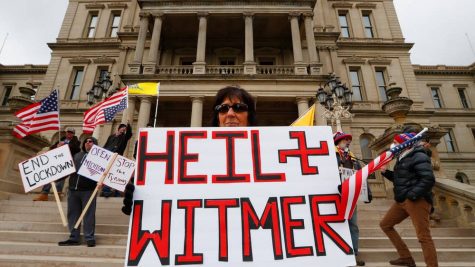 Trump encouraged these protestors as part of his effort to urge states to adopt a swift reopening to salvage the economy. Many Americans criticized these encouragements, noting that they would only sow more seeds of instability and division.
"The president is fomenting domestic rebellion and spreading lies—even while his own administration says the virus is real, it is deadly and we have a long way to go before restrictions can be lifted," said Washington Governor Jay Inslee.
LIBERATE MINNESOTA!

— Donald J. Trump (@realDonaldTrump) April 17, 2020
LIBERATE MICHIGAN!

— Donald J. Trump (@realDonaldTrump) April 17, 2020
LIBERATE VIRGINIA, and save your great 2nd Amendment. It is under siege!

— Donald J. Trump (@realDonaldTrump) April 17, 2020
After Trump announced that states could start to open up effective immediately, several states who were previously in lockdowns moved to open up their economies. Florida, South Carolina, Texas, Georgia, among others, all made steps towards opening up non-essential businesses.
Contradicting his earlier statements that urged governors to open up their states, Trump voiced his concern with Georgia Governor Brian Kemp's decision to open up gyms, bars, tattoo parlors, and restaurants.
"I disagree strongly with his decision to open certain facilities. I think spas, beauty salons and tattoo parlors and barbershops…it's just too soon," Trump said. "I love those people who use all those things, but they can wait a little bit longer. Safety has to predominate."
Many health professionals have urged states against opening up yet for fear that relaxed social distancing guidelines could precipitate a second influx of cases. They recommend postponing state openings until testing and tracing capabilities improve, effective therapeutics are approved, and more information is gathered on whether people can contract the virus after already being infected.
"I feel like we need to keep up the restrictions only because if we loosen them, then we'll get a resurgence in the cases and that's a scenario that should be avoided," said Chloe Attlan, junior.
New York, which has the nation's highest case count at 257,216 infected people, has extended its stay-at-home order until May 15. While it is finally transitioning out of its period of peak cases, Governor Andrew Cuomo has advocated for a more cautious approach towards opening the state to minimize risks of a second spike in cases.
People will die if we get cocky about reopening.

To those who are upset about our careful approach — don't blame your local official. Blame me.

— Andrew Cuomo (@NYGovCuomo) April 22, 2020
After health experts announced that Illinois's peak in cases will strike in late April to mid-May, Illinois Governor J.B. Pritzker announced an extension to the previous stay-at-home order from April 30 to May 31. Pritzker also declared that all Illinois residents above age two are required to wear face masks starting May 1 when in public. Some non-essential businesses were given the go-ahead to open for pickup and delivery.
Many state governors and health officials have extended stay-at-home orders due to a lack of available testing and personal protective equipment (PPE). Trump said on Friday that it would be up to each individual state to acquire tests, prompting criticism from many governors who have asked the federal government for assistance.
"In order for us to truly open things up, we need tracing, we need testing, we need a treatment available and we need a widespread availability of PPE, and we don't have those things available to use today," Pritzker said.
Leave a Comment
About the Contributor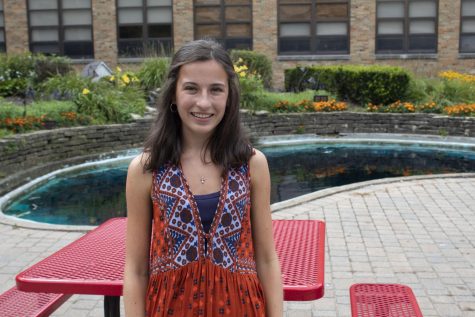 Olivia Ostrowski, Editor-In-Chief
Olivia, a senior, is excited to be apart of the Devils' Advocate team. She loves playing tennis and lacrosse, and competes in these sports at Central....