School safety procedures defined in hybrid model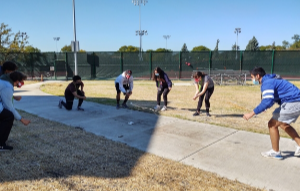 On Oct. 6, Hinsdale Central nurse and two students answered questions about the safety
procedures regarding the recent decision to return 25 percent of the student body to the school
each day of the week excluding Wednesdays, when all students and staff will attend their
respective zooms from home.
The administration has retrofitted the school to be Coronavirus safe, with one way hallways, a mandate
that all students and staff must wear facemasks at all times and other strict rules which help stop
the spread of the virus.
"I am very hopeful, I'm going to be very honest with you," said Melissa Geibel, the nurse at
Hinsdale Central. "I've gone to countless committee meetings and I've been nothing but
impressed with the way our district is really going through every single risk trying to mitigate it."
When asked what the most important rule was that the students and staff should follow, Geibel
said, "Face masks and social distancing.
The face mask is protecting others from you. It's also protecting you a little bit, it is, but it's
more when you're just wearing the cloth masks that are for the general public to wear, that's to
mostly protect other people. And then that social distancing. Those are the two big things."
That doesn't mean there is no risk. Given that students tend to walk shoulder to shoulder with classmates during passing periods, over the course of the day that may become a sustained period of time together.
"What if you are the student who
walks with the same friend every single class? Chances are, over the course of that day, you are
with that friend for 15 minutes. And, you're not six feet apart in the hallways, probably, so you
are going to be considered a 'close contact' to that friend that you're walking with," Geibel said.
The CDC classifies anyone, regardless of face masks, who spends at least 15 minutes within six
feet of anyone throughout an entire day as a close contact, which dramatically increases the
chances of contracting the virus if the counterpart tests positive.
If two cases are confirmed positive within 14 calendar days of each other within the same room,
the school would classifiy that as an outbreak, following state protocols. This doesn't mean the entire school would shut
down. In conjunction with the DuPage County Health Department and the Illinois Department of
Public Health, the school would determine if certain parts of the school would need to be shut
down or not. Some parts of the school could close, or none of them.
"It is definitely connected. And that should make people feel good. We're not making our own
rules," Geibel said.
Some students chose to opt out of coming back to school for various reasons.
"I think it was the quarantine. I was pretty strict about my own quarantine because someone in
my family is at high risk, so I didn't really go out a whole lot. I was always like, zooming my
friends, and I did the whole two week quarantine thing and it was pretty terrible and lonely so I
guess just going back and seeing even some of my friends was probably the biggest factor that
just made me want to go back," said Sacheen Upadhye, junior
.
While the students are in school, teachers will continue to instruct through Zoom.
Students in school will log onto Zoom while
the teacher is lecturing on their respective computers, as roughly 75 percent of the class is still on the
computer.
"You know, sometimes you have to change it up so, things get a little boring at home and
everything starts to mix together so, you know, just wanted to mix it up," said Michael Spitzer,
the team leader of the Central golf team, who originally opted out but is thinking about changing
to in person learning.
Spitzer added, "I feel
that it's the same as being in school. Teachers are teaching to the Zoom, not the students in the
class. So in general, you're on your computer the whole time while you're in school so what's
the difference on where you're at?"
Upadhye agreed with Spitzer on how the format is still similar to what the all remote model looked like.
"I also don't feel like it's that great because
with most of my teachers, there are still 75 percent of kids on the Zoom. So they're still going to
be presenting on Zoom, and most of my teachers have already told us that we're going to be in
school, but we're going to be using our chromebooks and watching through the zoom," Upadhy said. "So, I don't
really understand the point of going into school if we're going to be watching the same lecture
on Zoom."
The actual first round of in-person school is set to begin on Monday, Oct. 12, with Group A
going into Central following the same schedule as the remote learners. The other three cohorts will continue this rotation through the first week of November.
Leave a Comment