Protesters in Guatemala ignite protests over spending cuts
On Saturday, Nov. 21, thousands of protestors took to the streets in Guatemala City setting fire to the nation's congressional building in a display of outrage over a budget cut on health care and education.
The demonstrations, which also included peaceful marches, shook a nation still regaining stability from back-to-back hurricanes that displaced thousands of people and destroyed critical infrastructure. As the second storm continued striking poor towns in highlands and coastal regions, the Guatemalan Congress passed a budget that cut spending on health and education, increasing lawmakers' meal stipends.
"I feel like the future is being stolen from us. We don't see any changes. This cannot continue like this," said Mauricio Ramírez, a 20-year-old Guatemalan university student.
The damage to the building was unclear, but the fire seems to have hit legislative offices rather than the main hall of Congress. Demonstrators also lit ablaze bus stations.
Junior Fhatima Shakir said she believes that the protests are essential because the government, particularly the Guatemalan president, Alejandro Giammattei, isn't aiding the people adequately. 
"On top of the hurricanes and COVID a lot of these people need assistance for their health and lifestyles, but the president isn't providing that for them. To me, my family is really interested in the news going on and keeping up with the frustration and anger others are feeling," Shakir said.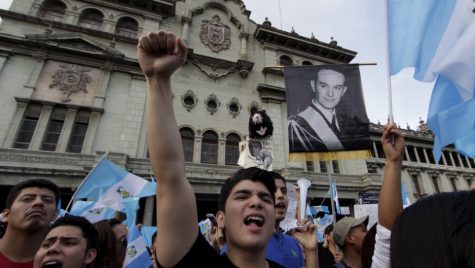 In Guatemala City, protestors held signs saying they had "neither a president nor a Congress" representing them. They called on all lawmakers, including the president to resign. A giant rat stood over the capital's central plaza plastered with the president's name. 
Giammattei condemned the incidents via Twitter on Saturday. 
"Anyone who is proven to have participated in the criminal acts will be punished with the full force of the law," Giammattei said.
He said he defended people's right to protest, but criticized the vandalization of property.
"But neither can we allow people to vandalize public or private property," Giammattei said.
Since the demonstrations, the Guatemalan Congress has prepared to receive and review a new budget proposal for the upcoming year, now taking inputs from diverse civil-sector representatives.
"I think using your voice doesn't matter where you are you if you want to help if you to support that can help a lot because it will prove that this is not just a problem that a few people want to protest this is about a nation and how we are being affected by the corruption of the government and now the brutality of the police," said Jody García, Guatemalan journalist.
Human Rights Watch has said Guatemalan authorities should review and hold responsible security forces that responded with excessive force during the protests.
Leave a Comment
About the Contributor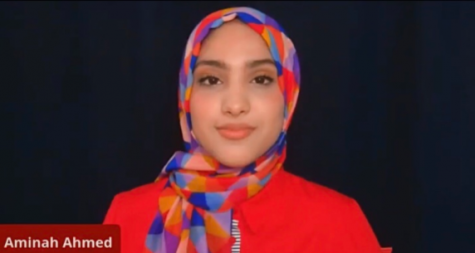 Aminah Ahmed, Writer
Aminah Ahmed, a junior is a young dynamic activist and public speaker. She is the host of the talk show NextGen on Apple TV, Roku TV, and Amazon Fire TV....