Playing with pizza
Cucinova, opened in June 2016, is an exquisite pizzeria located in Westmont where you can build your own pizza with a variety of sauces, vegetables, and meats.
As I walked in, the grand pizza bar caught my attention. Only a few tables were unoccupied, which was unsurprising, for it was around 6 p.m. on a Sunday night.
For toppings, you could choose up to four for the price of $7.99, or unlimited toppings for $9.99. The vegetables and toppings bar included almost every basic vegetable, such as olives, peppers, mushrooms, etc. I expected a wider range of unique toppings, such as pineapple or arugula, but unfortunately, it only consisted of the basics.
After building my pizza, it was cooked in a wood fire oven. Overall, it tasted amazing with the red sauce, garlic sauce, mozzarella cheese, black olives, green peppers, and chicken I had selected. The crust wasn't too hard with nice crispy edges and the chicken was fresh. It all depends on what you like on your pizza, but Cucinova serves their pizzas fresh out of the oven to make sure you get yours hot and still sizzling, one of their best features.
Having a flexible menu, you can simply order beef meatballs for meat-lovers or even a pizza without cheese as a vegan option. A pizza without cheese and just red sauce with a variety of  vegetables tasted just as great. The juicy, filling meatballs with a side salad is an alternative for those not looking to order a pizza.
A lot of the students love to chill there for their unique system and great food. Who doesn't love pizza?
"I actually go there all the time, and I absolutely love their pizza. The way its made and everything," said Maddie McMahon, junior.
The atmosphere was casual and cozy with warm lighting and an uplifting beat, along with a friendly staff. Our waiter checked up on us frequently and always had a smile on her face. I would definitely recommend this restaurant for anyone looking for a quality meal with friends or are feeling picky.
Cucinova is located at 800 E Ogden Ave #21b, Westmont, IL 60559 
View Comments (2)
About the Contributor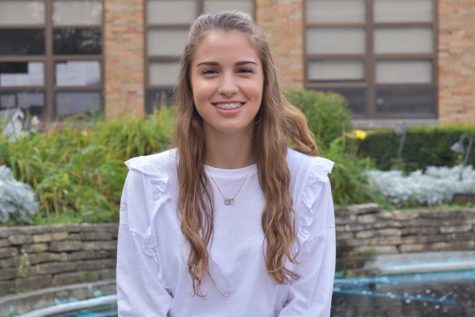 Samia Douedari, Section Editor
Samia Douedari is a senior who enjoys to write whether it's for a class or for fun. Along with being a part of the cross country and track team at Hinsdale...