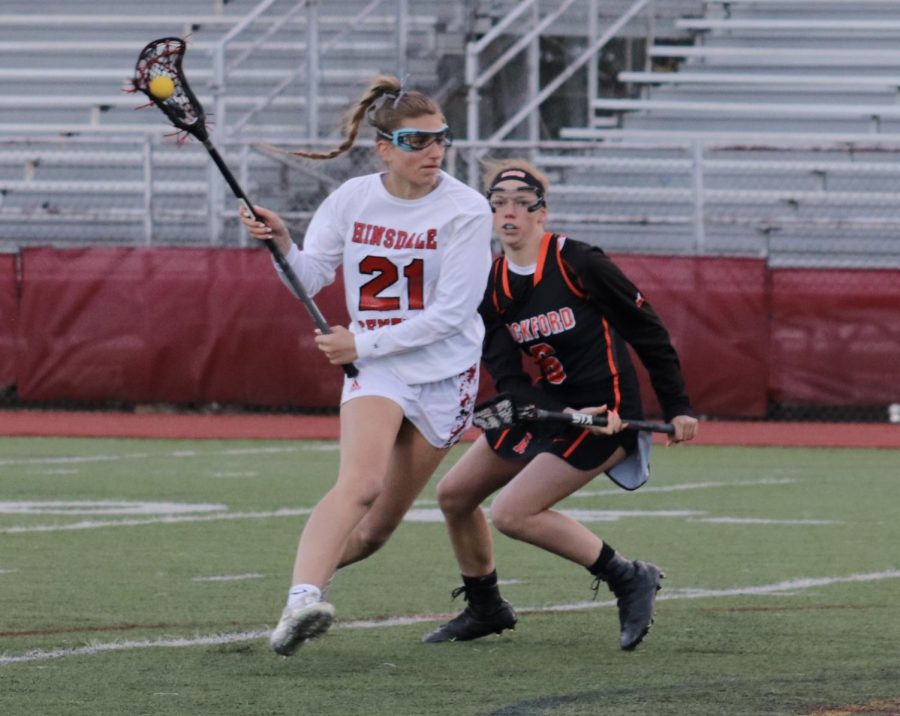 Rachel Wagner
On Friday, April 12 at 7:00 p.m., the Girl's Varsity Lacrosse Team faced off against Rockford Michigan High School on Dickinson Field.
It was a tough played match, but the Red Devils managed to pull off a 13-12 win in double overtime against Rockford.
"It was a very stressful game. As a team I think we did a good job supporting each other and making sure everyone played together; we shared the ball, and defended amazingly," said Sofija Buzelis, sophomore. "Our goalies were also on a roll, we had Ella Farrell [senior] out on a knee injury and we really pulled it together."
This year's varsity lacrosse team consists of only four seniors so the underclassmen turn to them in the face of difficult games like this one.
"Jenna Collegian [junior] scored the game-winning goal in double overtime which obviously took a lot of focus," said Jamie Pecilunas, sophomore. "And Annette Shupeck [freshman defender] played really well and didn't slow down at any time during the game."
As a team, their collective goal would be to win State as they did in 2018.
"The toughest part of this game was that two of our starting senior players couldn't play anymore, [Farrell] got injured and [Kristiana Strtak] our draw taker, had reached the max limit of fouls," said Mary Claire Arbor, junior player. "To motivate the girls the sidelines were coming up with some unique and hype cheers for the players."
The next girl's lacrosse game is away on Wednesday, April 17 at 6:00 p.m. against Glenbard West High School.