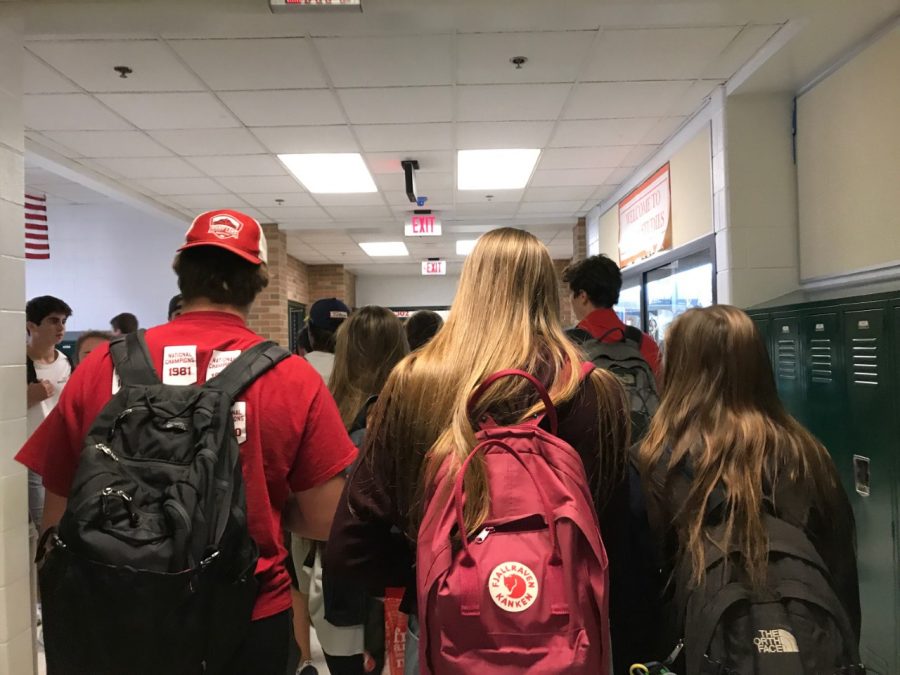 What to know about the buffer zone debate
October 11, 2017
Proposed solutions for limited space
Over the past two years, District 86 has faced numerous issues surrounding the unequal enrollment of students in its high schools. The resulting impact has been a lengthy debate between parents and students of the schools, Hinsdale South and Hinsdale Central, as to how this problem should be solved.
While propositions vary, from the limitation of attendance zones, to the expansion of Hinsdale Central's building to include more classrooms, some of the most popular have been controversial within the community.
Many have found a solution in the so called "buffer zone", an attendance area of District 86 in which students have the option of selecting either high school and located between Cass Avenue and South Garfield Road. With HinsdCentral being overcrowded and South under crowded, some members of the district have suggested altering the buffer zone lines to balance out enrollment in the respective schools.
While many see this as the most logical resolution to the issue, it has been met with significant backlash from members of both communities alike, with opponents arguing that buffer zone residents should not have to suffer the consequences of decreased property value or forced choice of high school.
"Kids are now growing up in [the buffer zone] because they want to go to a certain high school, and if they can't go to that…school, (their parents) bought that house for no reason, and that's completely unfair to both the kids and the parents," said Diana Denemark, freshman at Hinsdale Central and a resident of the buffer zone.
Central buffer zone parents are concerned that their children will get a less prestigious education at Hinsdale South, or have fewer opportunities, due to the slightly lower ranking of the school, but others see this as a baseless perception.
"If you look at the difference academically…you can't just look at the overall, you have to look individually at what our great students are like and what Central's great students are… and see that they are…the same," said Kristina Martinet, sophomore at Hinsdale South.
As a result of this uproar, alternate solutions have also been proposed. Initially some sought to merge the two schools, dividing upper and lower classmen into separate campuses, as is the case with Lyons Township High School in District 204. This, however, has since been voted down at the Sept. 18 board meeting, due to increased parental concern as to the detriments of the solution.
"I don't know if merging would have worked the best because of the different personality types that we have. Some people just don't work as well in the South atmosphere as they would the Central atmosphere," Martinet said.
Others have concerns about the logistics of traveling farther if the campuses were divided and what that would do to the school environment.
"I feel like having two separate buildings for the upperclassmen and the lowerclassmen would just make it kind of chaotic," said Adam Nuñez, freshman at Central.
Additional concerns of the merger included extreme disrupts to students' schedules and to the opportunities presented for students, including the space limitations at Central.
"What often happens is that there are often events that get put into [the auditorium] because there's no other place to put them," said Charlie Cooper, Auditorium Technical Director at Central. "If the school were not as overcrowded it is possible that there might be more space [to avoid that]."
Central's auditorium has also been used for various classes. "Let's say there's some event that needs space for 80 people, there's only two spaces in this school (the gymnasium and the auditorium) that can accommodate 80 people," Mr. Cooper said.
A solution to the enrollment issue has yet to be selected by the school board. Other propositions have included expanding Central to accommodate more students and increasing the appeal of South to residents by creating more programs. Residents and students are encouraged to attend the next meeting on Oct. 16.
Leave a Comment
Understanding the imbalance between the two schools
District 86 residents have voiced their opinions this year on the imbalances between Central and South, both in terms of enrollments and buildings.
As student numbers at Central continued to increase, the population of students attending South dropped. About 2,800 students attend Central, while South has a population of about 1,600. According to Chicago Tribune, Central has about 300 more students than architects have deemed an ideal enrollment, and South has about 400 fewer than ideal. The target enrollment, however, has been debated.
"This building has the same amount of classrooms, but more kids. There aren't enough classrooms to accommodate the students," said Mrs. Shannon Voytsekhovskyy, World Language teacher.
Mrs. Voytsekhovskyy transferred from South after working there for a total of 9 years and is in her second year of teaching at Central. Due to decreased enrollment at South, some South teachers have transitioned to working at Central for the increased student population.
One observable issue due to overcrowding occurs every day in school hallways.
"The hallways are packed with students which makes getting around fast difficult," said Nidhi Gopagani, junior.
Some students have also voiced concerns with class sizes saying that the bigger class size gives each student less time with teachers. According to the Illinois Report Card, however, both schools are listed as having a 17:1 teacher pupil ratio.
"I feel like I don't get as much attention and help from my teachers as I want," Gopagani said. "With too many students in one classroom, it's difficult to always receive help from my teachers."
Keelyn Cranley, sophomore at South, experiences attention and help from her teachers and says she enjoys having fewer students in class.
"A pro of less students is more one on one time with my teachers," Cranley said.
While the school report card has not shown a change to this ratio, some teachers have said they see the impact.
"When classes are too big, it's hard to give personal attention, and when they're too small, it's hard to generate discussion," Mrs. Voytsekhovskyy said.
Aside from the population, other factors are believed to be imbalanced by District 86 residents between the two schools.
"Central has a much more homogenous student body, both economically, racially, and ethnically. There is a genuine richness to the experience of studying amongst peers of varying socioeconomic, racial, and ethnic backgrounds," Mrs. Voytsekhovskyy said. "South is a far accurate reflection of what the outside world looks like and is like."
While opinions differ, solutions to this issue are included in surveys being conducted that ask opinions on proposed solutions. Some include redrawing property lines or combining schools and splitting the campuses.
"I don't think it's fair to make students currently attending Central transfer," Mrs. Voytsekhovskyy said. "It's hard to make them transfer in the middle of their high school career."
While some believe that transferring students should start with incoming students or no students at all, some think otherwise.
"[Transferring students to South] would help balance out the population a lot better at both schools," Gopagani said.
Although this issue is something many have spoken about, a solution has yet to be determined by the school board. All members of District 86 are encouraged to attend forums being held to voice their opinions and help produce a solution.
The next school board meeting is Oct. 16 at Hinsdale South High School at 7 p.m.
Leave a Comment