North Coast Music Festival: Summer's Last Stand
September 13, 2015
The sixth annual North Coast Music Festival, held on Labor Day Weekend at Union Park proved to be the best way to spend the weekend. From rap to funk, indie to electronic dance music, this festival showcases artists from very different genres; the founders of North Coast (NCMF) priding themselves on the mixture of up-and-coming and famous artists. This being my second year at North Coast, I had high expectations after 2014's talent-packed lineup which had Kid Cudi, Bassnectar, Snoop Dogg, Zeds Dead, and many others.
The best part about North Coast this year was the short line to get inside the fest. Whether I entered at 6 p.m. or 2 p.m., I never waited more than 10 minutes. Compared to the dreadful 45 minutes I spent in line last year, this definitely made me love NCMF a little more. As I entered the festival I was greeted with all the staples of North Coast, the delicious smelling food and the music already hitting my eardrums. On the first day, I discovered the greatest additions to the festival from last year: free food and drinks. The festival had a Coca-Cola Wonderland giving away as many free Coca-Cola's as you want, a Starbucks stand giving away free Double Shot Espresso Protein drinks, free orange chicken and free Mamba candy. What more could you want?
The wide-range of music brings crowds of rap to electronic to indie music lovers that all come out to dance and watch their favorite artists in the beloved, dusty Union Park. The festival also features many shops. These shops sell artist and festival merchandise, jewelry, accessories, pins and about anything you could want for a festival. Many of the shops are run by artists who make the work they sell, making the items that much more special. The festival prides itself on its' music and art. NCMF features painted sculptures and the "Living Gallery": an exhibit of live graffiti artists spray-painting all weekend.
The stages at North Coast all represent different Chicagoland area codes, 312, 773, 847, 708 and our very own 630. My first set of the fest was Exmag, an electronic funk group consisting of three artists, who are all involved in other musical groups/projects as well. They started the weekend off with an uptempo set blending different genres of music, yet constantly coming back to their funk sound. They were interviewed the next day about their set and their love for North Coast Music Festival.
I was most excited to see Jauz, Haywyre and The Glitch Mob. Jauz, a 21-year-old artist who has been blowing up in the electronic dance music scene, just recently entered the music world. Torrents of fans came to groove to his multi-genre sets. Jauz played many unreleased songs, and in return, was sung "Happy Birthday"  by the entire crowd after he announced his birthday had just passed.
The crowd at @northcoastfest singing happy birthday to me was one of the most unreal experiences. U guys were ?? ❤️ pic.twitter.com/sCKUWIUVtx

— JAUZ (@Jauzofficial) September 5, 2015

The Glitch Mob, known for their bass-driven music and distinct glitchy sound that inspires their name, played as the sun set on the first day of the festival. While the trio  played a pretty typical set of theirs, it couldn't match up to their amazing set at Lollapalooza 2014 that I had been lucky enough to be for. 
But of all the acts, a electro-piano hybrid artist emerged as my favorite. Haywyre, an Australian piano genius, played my favorite set of the weekend, playing my favorite songs by him "Everchanging" and "Back and Forth". He played the piano live while also mixing, making melodic music that forces you to dance.
I had seen many of the artists I saw at North Coast before at other festivals and shows, but I decided to explore the unknown and see some artists I barely knew about.  Performing in a turtle costume and only streaming turtle visuals, Trippy Turtle, sampled many songs to get the crowd singing along, and pleasantly surprised me with his melodic hip hop samples.
The most surprising set of the weekend was Slow Magic, an upcoming artist who played electronic drums which are programed to different electronic bass beats, on top of tracks he made himself. I had expected a mediocre set, but was shocked when this barely-known artist played an up-tempo set that kept me, and the crowd moving. From the lit up mask he wore to the addition of bass added in front of you, this live performance was something you couldn't get from listening to him on headphones.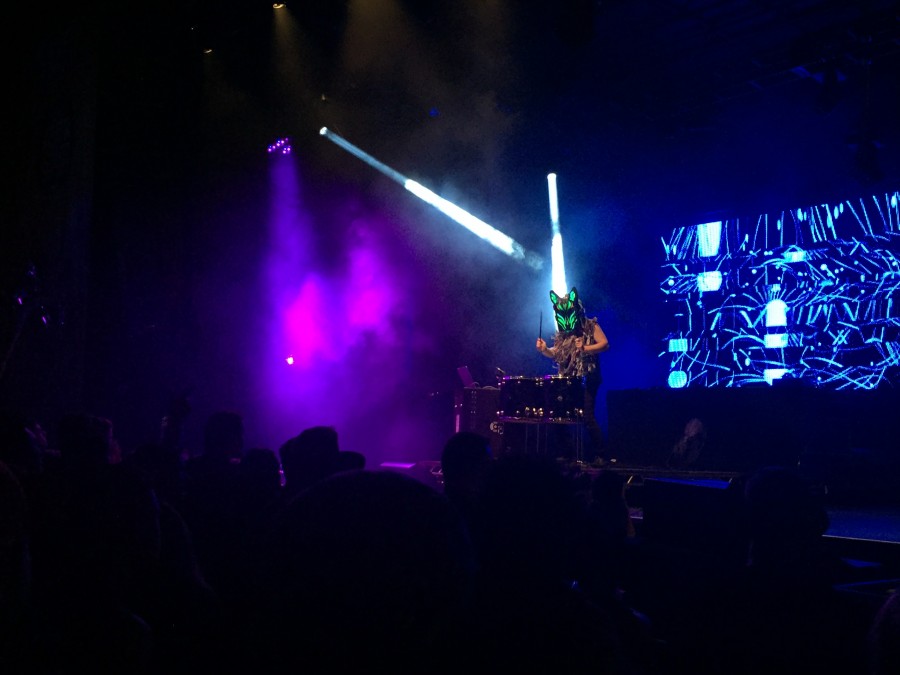 To end my magical North Coast experience I saw Snails. Snails, a dubstep and trap producer, put on a very high-energy set to end the night. Ranging from the snail visuals on the screen, to the loud dubstep blasting, it's safe to say NCMF ended with a bang; living up to its' slogan "Summer's last stand" and capturing me to come back next year.