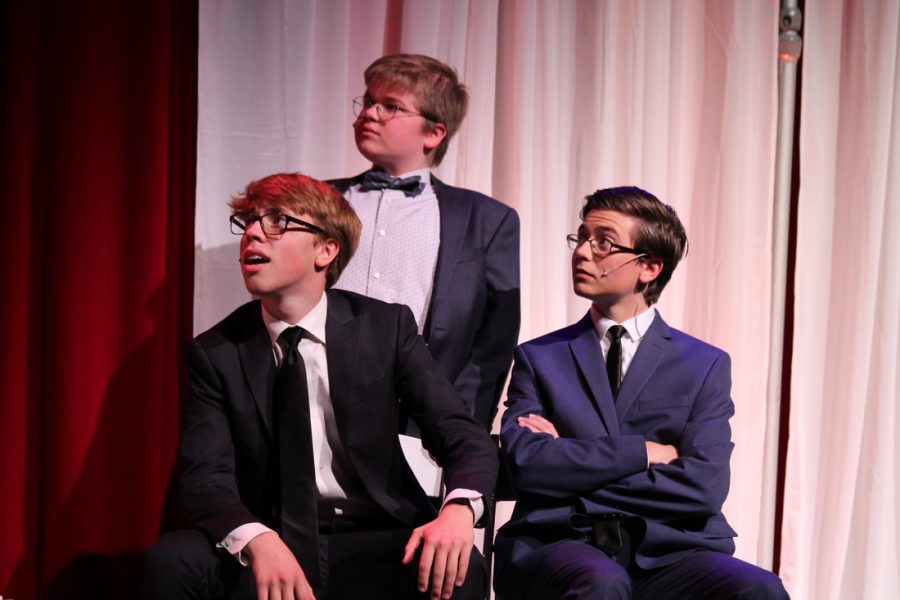 Alex Martin, senior
Devils' Advocate: What role are you playing in this years musical?
Alex Martin: I'm going to be Lord Pinkleton.
DA: How long have you been acting?
AM: I've been acting for a while now. I think since first grade because I began taking acting classes in first grade, but then my first show was in second grade.
DA: Why did you audition for the musical?
AM: I auditioned because I like coming back and seeing all the people in the program, taking part in all the traditions, and putting on an amazing show.
DA: What were the auditions like?
AM: This year's auditions were different because the songs we had to prepare for the audition were provided, compared to past years where we would have to find an accompanist and pick our own song from all the songs in the world.
DA: Is there anything special you did to prepare for the auditions?
AM: To prepare for my song at the audition, I made a playlist that was only my song that I was going to perform for the audition, and then literally every time I got in the car or listened to music I just listened to that playlist and song on repeat so that I could get it stuck in my head. For callbacks, I did the same thing, but instead I tried to listen to all the songs that Prince Topher was in because ultimately one of the better ways to prepare for these auditions is to know the material for the show.
DA: How are you feeling about performing in "Cinderella"?
AM: It's a nice way to close out the year. I want to have fun with this performance since it's my last show because in the past, it's been a lot of stress and very hard work. Of course, I still plan on working really hard while preparing for "Cinderella", but I also want to focus on just having fun.
DA: Have you been in any shows with Central before? What were they like?
AM: I've done nine shows at Central, I think, so far. But outside of Central, I've been doing shows a lot since second grade, and I've been taking acting classes for 12 years. I did a program at Northwestern over the summer for on-camera acting. Other than that, I do shows at BAM Theatre and Theatre of Western Springs.
DA: What has been your favorite theatre experience thus far?
AM: Well, I could say the cool shows or professional things that I have done throughout my acting career, but I just really loved being in the school's musical my freshman year. The musical that year was "Fiddler on the Roof", and I loved it because I think it just really set me up and showed me that acting was something that I wanted to pursue and was something that I would want to possibly double major with when I go to college. The foundation of my high school acting career really all sprung from my freshman play and the musical because I looked up to the seniors then, and I just wanted to follow in their footsteps and make my own mark to help make this a great theatre department.
DA: What's your favorite show or musical that you have gone to see?
AM: I've seen "Hamilton" three times. It's really embarrassing, but I love it.
DA: What type of music have you been listening to recently?
AM: I've been listening to the live action "Beauty and the Beast" soundtrack, and there's a great song called "Evermore" on it that I've been listening to on repeat.
DA: Which Disney or fairytale character are you most like?
AM: I definitely identify with Olaf or Kristoff from "Frozen".