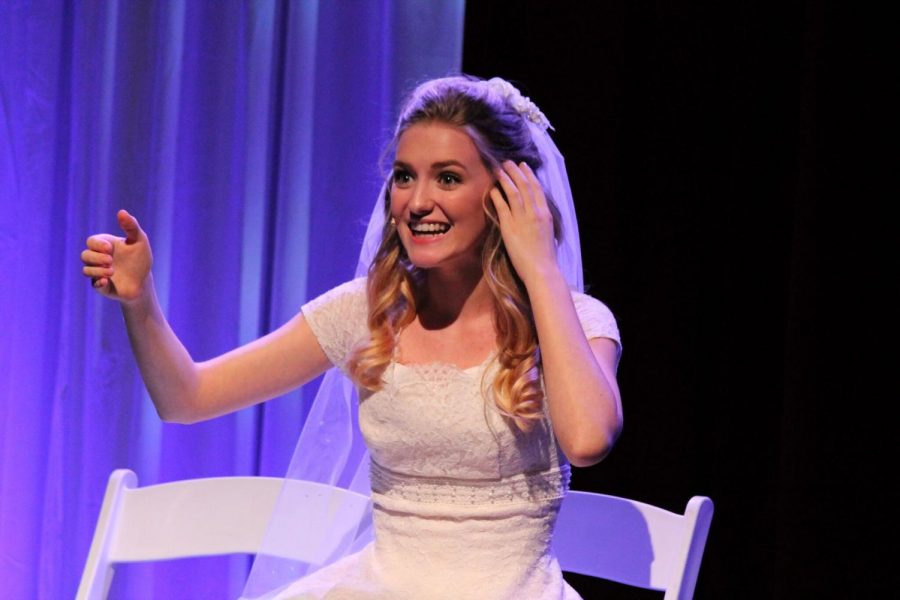 Katie Schaber, senior
Devils' Advocate: What role are you playing in this years musical?
Katie Schaber: I'm playing Gabrielle, who is one of the stepsisters.
DA: How long have you been acting?
KS: I've been acting since my first show which was in fifth grade.
DA: Why did you audition for the musical?
KS: I've been doing the school's musical since I was a freshman, so it was just kind of a natural thing to do for me. I've been in it the past three years that I've been in the drama program; we have always looked forward to doing the musical.
DA: What were the auditions like?
KS: There were two separate days of auditions that you chose. You had a vocal and acting audition, where you chose one out of the four provided songs. In the past, we have gotten to choose our own material, and I personally like choosing my own material because I feel like I can tailor things to fit my own voice, but then again having something cut and already prepared is much easier.
DA: Is there anything special you did to prepare for the auditions?
KS: In choir, I went through the songs that we could perform at the audition and picked the one that fit my voice best. After that it was just a lot of work on my own in terms of memorizing the monologue and preparing my song, and then there was really no way to prepare for the dance auditions. Months prior to the audition though I watched different high school productions on YouTube that were posted of "Cinderella" so that I could learn the show and learn all the music in the show so that I would be prepared for callbacks.
DA: How are you feeling about performing in "Cinderella"?
KS: I think it should be very interesting because since I am going into acting in college and plan on being an acting major, it is going to be my last high school production. I feel that this will be a less stressful experience than what I will experience in college and professionally, so in that case, I am excited to just have fun with friends and cherish those moments that happen offstage. I also think it will be fun and the perfect closing to my four years of drama here at Central too.
DA: Have you been in any shows with Central before? What were they like?
KS: I've been doing shows with Central before, but I've also done shows through community theatre. I did a show at the Lyric Opera House of Chicago, and I've done some showcases at the Goodman Theatre. My theatre experience is kind of all over the place.
DA: What has been your favorite theatre experience thus far?
KS: For sure "Rigoletto" when I was performing at the Lyric Opera House because it was my first real professional job that lasted over the course of several months, and I was able to meet some really interesting people. It was also cool because I had never been in an opera before, so it was really unique.
DA: What's your favorite show or musical that you've gone to see?
KS: One-hundred percent, my favorite play was "Passover" which I saw at the Steppenwolf Theatre. It was the most unbelievable show that I have ever seen in my entire life. I also really liked "An American in Paris" when it was performed here in Chicago.
DA: What type of music have you been listening to recently?
KS: I've been listening to [the soundtrack from] "Beautiful", which is the Carole King musical.
DA: Which Disney/ fairytale character are you most like?
KS: Probably Elsa from "Frozen" because I have had little kids come up to me before when my hair is up in a braid asking me if I'm Elsa.