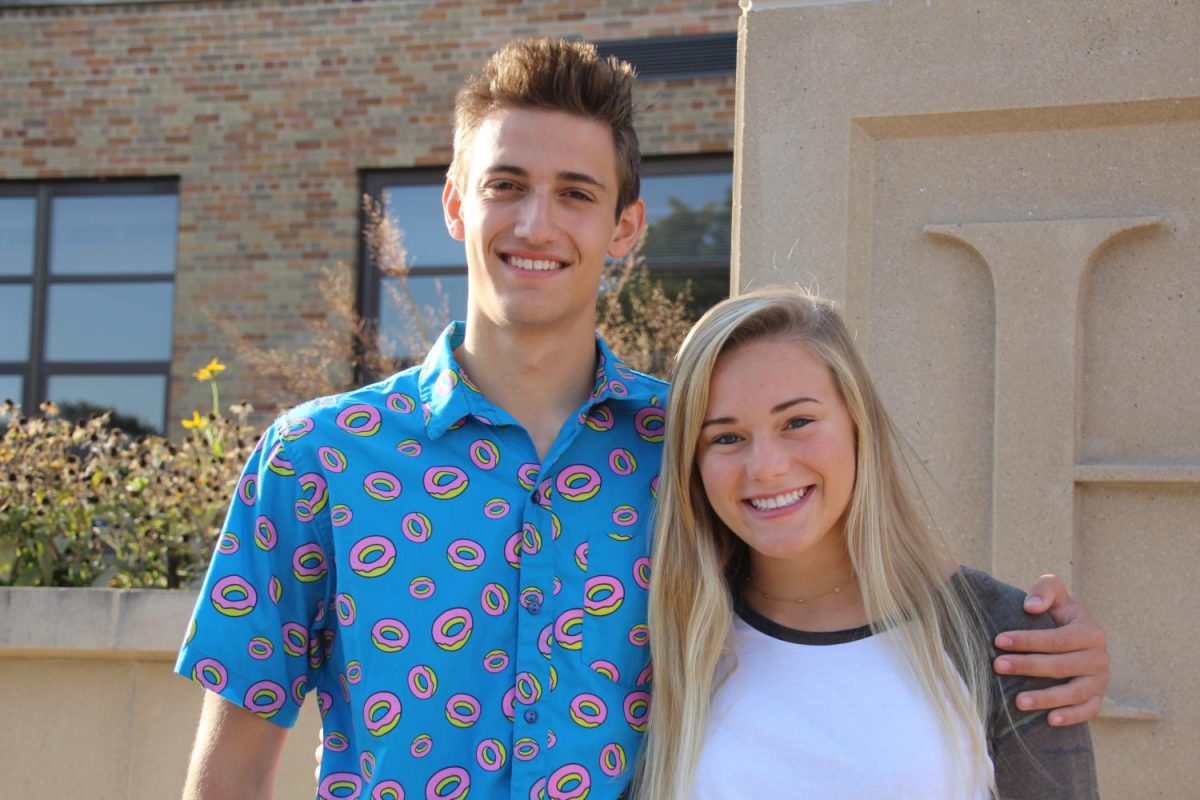 Homecoming king and queen crowned
September 26, 2017
Meet the king and queen
At the annual Homecoming dance this past Saturday, Sept. 16, students crowned Marshall Demirjian and Kelly Nash as homecoming king and queen, respectively.
The crowning of the seniors concluded a week of '80s-themed homecoming festivities that began last Sunday with the Powderpuff game between juniors and seniors, and the screening of Ferris Bueller's Day Off on Dickinson Field.
Throughout the past week, Nash and Demirjian participated in all five dress days and ended by performing their skits at Friday's pep rally. For both the king and queen, being on homecoming court was an honor in itself, and being crowned was just an added bonus.
"I loved getting together with a bunch of my favorite people and going all out in school spirit, events, dress days, and our skits," Demirjian said.
Despite being nominated and voted onto the court, neither Nash nor Demirjian were expecting to be chosen by the student body as king and queen.
"Hearing my name called at the dance for queen was unreal," Nash said. "Everyone on court was so supportive and ran up to me for a hug which was so rewarding. One of the best moments ever."
Demirjian was also in shock after the announcement of homecoming king and found it hard to comprehend what was happening at the moment.
"The whole thing happened so quickly, and I was so surprised and shocked, but also so happy," Demirjian said. "Everyone started jumping up and down, and I almost fell off the bleachers because I was still too much in awe to react to [the results]."
Even after the initial surprise of being crowned, Demirjian and Nash are both still adjusting to the fact that they were chosen by their peers to be king and queen, an honor generally reserved for leaders of the school. Both students are involved in numerous clubs and sports. Nash participates in cheerleading and lacrosse, as well as JKB, student council, Peer Leadership, NHS, and more.
Demirjian is also active at school, and especially enjoys the support the rest of the student body has to offer during homecoming week. His favorite part of being on court was the involvement of other students that he saw.
"There's usually a really good [spirit] turnout by the rest of the school on Friday," Demirjian said.
Overall, the seniors described being chosen by their peers as a humbling and incredibly memorable experience.
"As a young girl, I always looked up to the senior girls on Homecoming Court… it's an honor that I had the chance to be one of them," Nash said.
While students will begin to get back into the swing of first quarter in the upcoming weeks, there is no doubt that for Demirjian and Nash, the memories of being crowned 2017 Homecoming King and Queen will last forever.
Leave a Comment
The week leading up to the crowning
"My favorite part of homecoming week was probably the excitement. Throughout the entire week everyone was happy, everyone was hyped up," Nash said.
"The dress-up days were fun. I loved wearing the suit through the halls," Demirjian added.
Another special part of the eventful week was the planning and performance of the skits. The pair said they threw out many different 80s ideas before they came up with their final skits, which they presented with their partner in front of the entire school during the pep rally, Sept. 15.
While homecoming week is filled with awaited tradition, Demirjian said the week was still filled with some surprises.
"I didn't even know we had a parade until a week before," Demirjian said. "I'd never heard of it, so my first year participating in it I was sitting on a cadillac throwing candy at kids."
Both king and queen agreed that they were honored to be chosen. However, they emphasized that it wasn't winning king and queen that counted, but the entire homecoming experience and the people they spent it with.
"The entire court was just so awesome and I felt that it didn't even necessarily matter who got chosen as king and queen," Nash said. "This is our last homecoming, our senior homecoming, and we're all doing it in style."
Leave a Comment