Band program records professional CD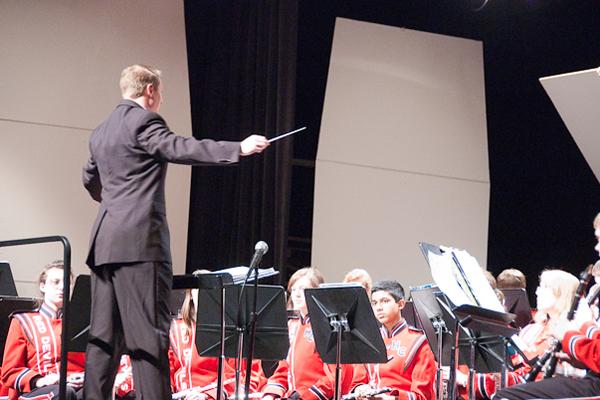 On Thursday, Feb. 16, the Hinsdale Central Band Program held its annual Winter Concert in the auditorium. The concert featured the Concert Band, Symphonic Band, Wind Ensemble, and the Concert and Symphonic Percussion ensembles. Though the concert is an annual event, it was marked by a new production: a professional recording of the various ensembles.
Each piece performed at the concert was recorded earlier that week and is being compiled into a CD. The program worked with a sound engineer, graphic designer, and other professionals in order to record and produce a CD containing performances from all members of the band program. Wind Ensemble member and senior Emma Jerzyk is especially excited about the production and sale of these CDs. "I think this is great publicity for the band, especially with all that we accomplished this year. It feels really great to be recognized and rewarded for all of our hard work," Jerzyk said.
Besides publicizing the band program at Hinsdale Central, the CD also aims to celebrate the accomplishments of the bands this year. Wind Ensemble was chosen to perform at I.M.E.A. All-State in Peoria this past January. This was an honor for the band, and recordings from the ensemble's I.M.E.A. performance will be included on the CD. "Performing at I.M.E.A. was a once-in-a-lifetime opportunity, and I can only hope that the student body recognizes that this was just as big of an accomplishment as having a sports team go to state," Jerzyk said.
In addition to celebrating the band program, the production of this CD aims to educate students about music production. "The department is selling the CDs basically at the cost of production, so it's really more for the benefit of the students to see how the process works. With all the technology we have today, it's really easy to ignore all of the work that goes into making a record, and all the people that deserve a share of the rewards," Jerzyk said. "Obviously, all the band students were involved in the production of the CD. But also, the people that composed and arranged the music, the people that published the music, the sound engineer that came to help us record, the artist who designed the cover and many others were involved in the process."
While it is uncertain whether the creation of a professional CD will become an annual tradition for the band program, Jerzyk hopes it does. "I think it's really important to realize how far we've come, especially considering how fast the band has grown in recent years. It's nice to take a moment to celebrate all of our hard work. Plus, I think that making a project like this a tradition would create a timeline of recordings to show where we've been and how great we've become," Jerzyk said.
Leave a Comment