Mackenzie Cimala's still life drawings showcased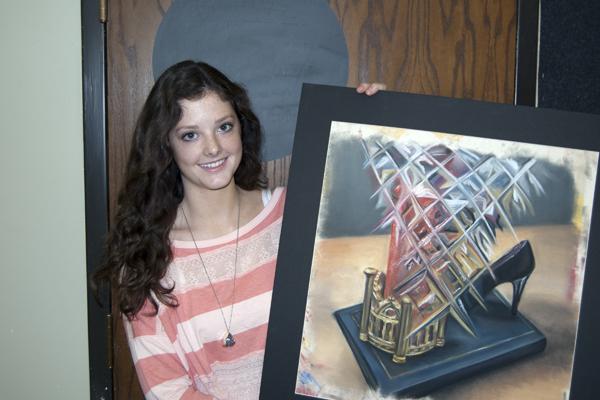 Senior Mackenzie Cimala was recently selected for the 2012 Portfolio Exhibit at the Elmhurst Art Museum.
Cimala was one of 14 seniors chosen out of entrants from Dupage, Will, and Kane Counties. Twelve of Cimala's pastel pieces will be included in the exhibit, all contributing to a central theme of still lifes from her travels.
"I wanted to do something with traveling because I love traveling to foreign countries with my family," Cimala said. "I like drawing still lifes so I decided that the objects I chose would represent things I learned from that specific country." Through her pastels, Cimala attempts to bring out the culture and feel of a foreign location and portray that uniqueness in the subjects of her still lifes.
While Cimala does use actual photos of the still lifes as references for the final pastel work, she rarely recreates the subject exactly as it was. "I add a distortion to parts of it, to represent how our view is distorted since we are only visitors to the country," Cimala said. As far as her style is concerned, Cimala relies on multiple layers of colors to add depth to her pieces, further distancing the final product from reality, while also portraying her personal view of the subject and the country as a whole.
The opening reception for the Portfolio Exhibition will take place on March 16, from 6-8 PM, at the Elmhurst Museum of Art, located at 150 Cottage Hill Avenue, Elmhurst.
Leave a Comment