Les Mis hits the stage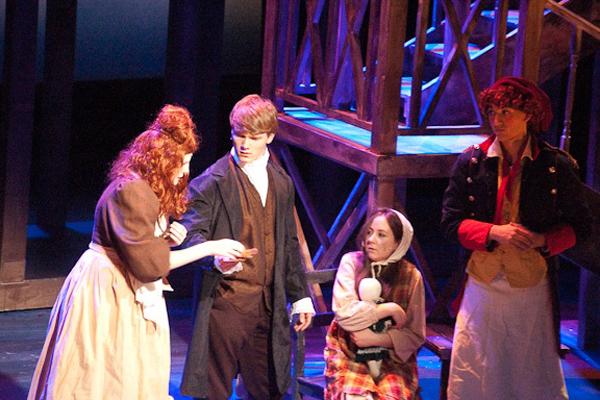 The Hinsdale Central Drama Group performed its spring musical, "Les Miserables," on March 8, 9, and 10 in the auditorium. Students, staff, and community members flocked to see the performance that students had spent months preparing. Cast members performed in front of a full auditorium each night, and the show was completely sold out on Saturday evening.
Dan Cassin, senior and cast member, said that finally performing for an audience was the best part of the show. "Seeing that sold-out audience is so great because it's a reminder as to why we put all the time and effort into a show. We perform to effect people—that's the whole point of theatre," Cassin said.
Cassin admits that the play was "daunting" at first. "The music was the hardest part of the show because everything is music; there are no spoken lines. Therefore, if you miss a beat in the song then you throw off the rest of the music," Cassin said. The cast and crew, totaling approximately 60 people, rehearsed every day after school for 3-4 hours, and many cast members put in extra time outside of rehearsal to prepare.
Cassin enjoyed being a part of this production. "I have had the opportunity to have a lead role [in the school productions] over the past few years, but being a senior and a leader in our department this year was a great honor. All of the seniors and lead actors were great leaders to the underclassmen, who will lead the shows once we [seniors] are gone," Cassin said.
Leave a Comment