Prasino: not as pristine as one would hope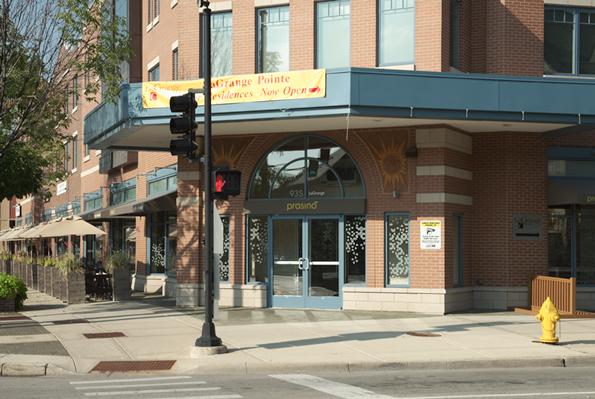 B+
Location: 93, south La Grange, IL 60525
"Prasino" offers gluten free menu items, vegetarian and vegan options, and is eco-friendly.  Most importantly, "Prasino" does all of these things without sacrificing the quality.
For the most part, the food was very enjoyable. The grass fed rib-eye steak was tender and well cooked, the bricked half chicken was moist and flavorful, and the Tucson chowder soup, while spicy, was enjoyable. The only food that was lackluster was the rapini because it was a somewhat bitter.
Unfortunately, the desserts could use more work. The chocolate molten cake did not have much flavor, and the carrot cake could have been good, except the nuts inside are roasted too much, making it uncomfortable to eat.
The menu is decently varied. Along with options for vegans, vegetarians, and those who want to eat gluten-free, there are various, sandwiches, meat entrees, salads, and soups offered.  A lot of breakfast options and dessert options are also available. The appetizers are unique, with options ranging from lobster stuffed with avocado to an olive dish.
The price is appropriate for the quality. Most entrees cost around fifteen dollars, which seems expensive, but the quality of the food makes up for it .
The overall atmosphere is relaxed and modern. The whole restaurant has an eye pleasing bamboo theme with decorative lights up above that makes the restaurant feel modern and environmentally focused at the same time. Ambient music is played in the background which kept the building feeling alive without it being too overwhelming. The only problem with the atmosphere deals with the televisions towards the front of the building. Normally, it would not be a bad addition except the restaurant goes for a green and outdoors feel.  Having televisions in the restaurant distract from the atmosphere the restaurant tries to achieve. It does not kill the overall atmosphere, but they are still a bit distracting.
The service was great and helped the experience. The meals came swiftly, the waiters came when you needed them, but they were never intrusive, and the tone was very polite. Samples of daily soup were even offered as a nice bonus.
Overall, "Prasino" gets a lot of things right. Atmosphere, service, and food were all done exceptionally.
Leave a Comment