Public artwork splashes color over Chicago intersection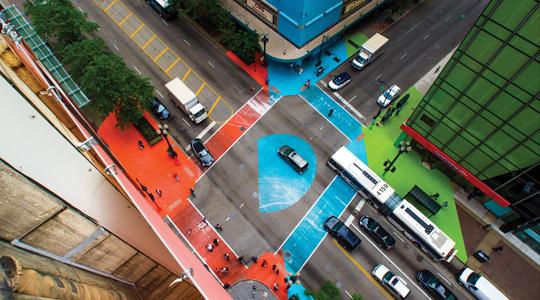 Pedestrians crossing a busy intersection in downtown Chicago have had their days brightened over the past couple of months by a whirlwind of color and design. Covering the building facades, sidewalks, streets, and windows of Adams and State Street, "Color Jam" is a true 3-dimensional painting.
On display until the end of September, "Color Jam" is part of Art Loop, an award-winning series that creates contemporary artwork to cover parts of downtown Chicago. "Color Jam" is not only public art; it invites the public to participate in a series of concerts, talks, and other activities throughout downtown.
World-renowned multimedia artist Jessica Stockholder was inspired to create "Color Jam" after observing the way light bounces off the windows of buildings in Chicago. Stockholder transformed the grey and previously nondescript intersection into a geometric design of orange, red, yellow, blue and green.
Described as a "vibrant sheath covering a downtown intersection," the public artwork will officially close September 31.
According to Laura Milas, head of the Art Department, public artwork such as "Color Jam" is important in all communities. "There is a bit of public art here at Central," Milas said. "All the mosaics around school and the new gym floor are examples of public art our students have created. Public art saturates the environment with color and creates a new environment."
Other must-see attractions in Chicago before September ends include: Chicago Gourmet 2012, the World Music Festival, and Oktoberfest Chicago.
Leave a Comment