Marching band to perform in London's New Year's Day Parade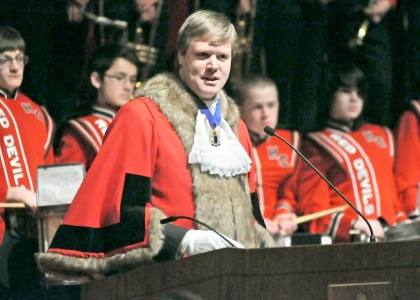 It's not every day royalty such as the great-grandson of Winston Churchill makes a visit to Hinsdale Central.  The Hinsdale central marching band was given this opportunity on Tuesday, Feb. 24.
The former Lord Mayor of the City of Westminster, Duncan Sandys, came to the school to formally invite the marching band to play in the 2016 London New Year's Day Parade (LNYPD).
The ceremony took place in the auditorium at 1 p.m. Lord Mayor Sandys and Robert Bone, the founder and Director of the LNYDP, were welcomed by the band's symphonic percussion group.
Junior Robin Owens, one of the drum majors of the band, escorted the two men down the aisle of the auditorium for the invitation.
"Part of the band played, school leaders talked, and we were presented with gifts and the invitation to perform," Owens said.
Owens credits the hard work and improvement the band has made in the past few years for this rare opportunity.
"I think it's fair to say we're all extremely honored and excited," Owens said. "This parade is actually bigger than the Macy's Day parade, and the fact that we were chosen to participate is especially amazing."
In a press release by District 86, Matt Kurinsky, Hinsdale Central band director, said too how excited the students are to be performing.
"All the students are elated to be performing at such a prestigious event," Kurinsky said. "It is a fantastic opportunity for Hinsdale Central. We're already working on our repertoire."
The marching band will not only perform in front an audience of more than 500,000 people, but also in the city, which holds both the Houses of Parliament and Buckingham Palace.
Tune in next New Year's Day and join a television audience numbering in the hundreds of millions to watch the parade.
Leave a Comment
About the Contributor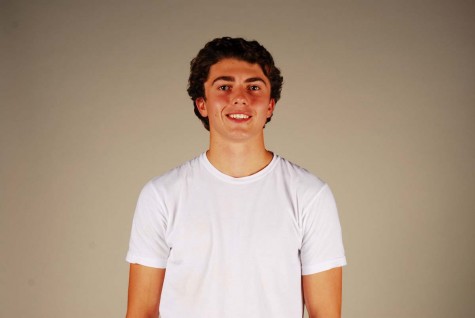 Andrew Bitautas, Writer
Andrew is an outdoors enthusiast and self-taught drummer. He picked up some sticks in first grade and hasn't stopped jamming, playing for the Shoobies,...