Summer 2016 Movies: Hits and Misses
At the beginning of the summer, the most exciting thing for me was seeing the trailers for all of the blockbusters that were coming out. By the beginning of May, the list of movies I anticipated seeing was a mile long. However, by the beginning of August, I found myself feeling disappointed with most of the movies I had looked forward to for so long. Summer movies are usually average, but this year's batch felt incredibly mediocre. Here are four summer movies that really stuck out to me (for better or for worse).
Arguably the most controversial movie this summer, "Ghostbusters" was a hit in my eyes. Directed by Paul Feig, the reboot managed to be funnier and scarier than the 1984 classic. The movie received a lot of attention when women were given the starring roles. The film features the hilarious Melissa McCarthy, Kate McKinnon, Leslie Jones and Kristen Wiig. People seemed afraid that an all-female reboot, or just a reboot in general, would tarnish the great memories they had of the original, which is understandable. However, others used it as an opportunity to attack the casting choice with sexist comments. Despite all of the drama, this reboot was everything it needed to be and more.
Similar to "Ghostbusters," Pixar's "Finding Dory" proved itself to be a hit just like its predecessor "Finding Nemo" did in 2003. Directors Andrew Stanton and Angus MacLane brought back the beloved characters of Dory (Ellen DeGeneres), Marlin (Albert Brooks) and Nemo (Hayden Rolence) to tell another heartwarming story about family and friendship, while also introducing new and lovable characters like Hank the Octopus (Ed O'Neill), Bailey the Beluga (Ty Burrell) and Destiny the Whale Shark (Kaitlin Olson). When I went to see it in theaters, the seats were unsurprisingly stuffed with nostalgic teenagers as opposed to younger kids, reliving their childhoods.
"I think 'Finding Dory' was my favorite summer movie," said Anthony Carta, senior. "I really like Pixar movies, and I thought they did a good job with animation."
Sadly, not all sequels were as great as "Finding Dory." Joining the other Bourne movies, "Jason Bourne" was especially lackluster. The entire movie felt like one big chase scene, only separated by snippets of dialogue. Jason Bourne (Matt Damon) comes out of hiding only to be chased around the globe by a CIA asset that's keen on killing him. Simultaneously there's a subplot about the CIA working with a big technology company collecting user data, which seems completely unnecessary and unrelated. Edward Snowden is mentioned a couple times to add some cultural relevancy, but other than that the subplot felt like a scene-filler that was only added to make the movie longer. If there is another Bourne movie, I doubt I'll be excited to see it.
Finally, the most disappointing movie of the summer: "Suicide Squad." When I saw the trailer for this movie, I was ecstatic. DC finally seemed like it was going to dig itself out of the hole that was created by "Batman v Superman: Dawn of Justice." However, the movie seemed way too thrown together. DC tried to establish a universe as solid as Marvel's, but they did it way too fast. It also seemed like the movie was trying to rip-off some of Marvel's most recent movies, like the witty humor in "Deadpool" or the action scenes set to '70s jams in "Guardians of the Galaxy." I was pulled in so many different directions that I didn't know what the actual plot was supposed to be until the last 30 minutes of the movie. I wish I could say I enjoyed Jared Leto's Joker, but he was barely in the movie. They tried too hard to make him seem crazy with weird camera angles and visual distortions when he was on screen. In spite of all this, I will say I enjoyed Harley Quinn (Margot Robbie) and Deadshot (Will Smith), but if there is a sequel (and they did seem to set one up at the end), I would like to see it be more focused on Harley Quinn, the Joker and Batman.
"My math class had a big talk about it, and a lot of people said that ['Suicide Squad'] was horrible," said Kaitlyn Bergin, freshman. "It promoted gun violence, and just violent stuff in general."
Overall, this summer seemed to be more of a win for smaller-budget, artsy films like "Swiss Army Man" and "Café Society." For now, I think I'll try to put the summer blockbusters behind me and focus on the trailers coming out for movies this winter.
Leave a Comment
About the Contributor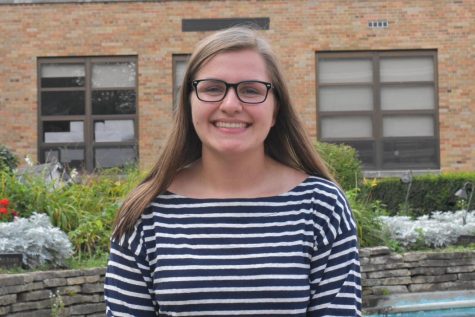 Hannah Anderson, Editor-in-Chief
Hannah Anderson is a senior whose second language is Internet. When she's not working on things for Devils' Advocate, she can usually be found blasting...