Arts in Education Week lets student artists shine
This week from Monday, Sept. 12 to Friday, Sept. 16, student artists are coming together to celebrate and showcase their work in room 216 for National Arts in Education Week. Central is one of many schools all over the country participating in this week of excitement and celebration pertaining to all of the art forms, including visual arts, dance, theatre and music.
"Our motivation is to get all of the four arts before the public and have them stop and consider its value and purpose, in this case in schools," said Ms. Laura Milas, art teacher and department chair.
Throughout the week, art students have been enjoying various activities that show off their creativity and artistry. At the start of the week on Monday, students posted photos of their work to social media with #ArtEdsWeek and #CentralArtist to spread it to artists all over the country, as well as artists just within the Hinsdale Central Community. Then on Tuesday, they participated in a scavenger hunt and watched a video that encouraged them to promote creativity and maybe even teach the arts in the future. On Wednesday, students made bucket lists of art they wanted to see and also posted about their art educators who inspire them on social media with #TeachtheArts. On Thursday, all students can see the jazz band perform in the cafeteria, but behind the scenes art students will be working on a new art installation.
"Every year we try to do something a little different," Ms. Milas said. "This year we're doing a paint chip mosaic, so we're going to ask kids what makes art special to them. Then they're going to be adding a blue paint chip, so it'll be cloud themed."
The art classes will be taking the paint chips and placing them in the lights all along the art hallway, to create the illusion of a skylight that will brighten students' days as they walk to class.
Finally, to culminate the week on Friday, art students will be starting work on their installation for the Homecoming Art Show, which opens on Tuesday, Sept. 27. However, they will also be spreading out around the cafeteria for a Live Day of Art, where other students can observe their creative process as they make something on the spot.
"My favorite part [of Arts in Education Week] is the Live Day of Art," said Anushka Nair, junior. "That's when the rest of the student body really gets to see art students at work and understand their process."
Nair is a member of the National Art Honor Society board at Central, along with Nina Grotto, senior. Grotto has participated in Arts in Education Week ever since freshman year, and now that she's co-president of the National Art Honor Society, she is even more dedicated to making students think about art and its relationship to learning.
"I think that art is largely overlooked at Central, and it's not seen as being an important subject. By having an arts week, we hope to bring awareness to the student body so that they can see how important art is to their lives and to the school," Grotto said. "That's why the theme this year is Art for Life's Sake, as a play off of art for art's sake. We want students to see art as being integral to their curriculum, and a core part of what makes us human, and what makes our lives worth living."
Student artists are also making a difference beyond exposing their peers to new subjects. This week, they're raising money for art supplies to give to under-served communities in the Chicago-land area, so that other schools will have the opportunity to let students discover their passion for the arts just like the artists at Central.
"It's a fun challenge for us to think of creative ways to engage students that make them think a little bit broader than their personal art projects, in that somehow we'll allow students that are artists at Hinsdale Central to have the opportunity to step in the limelight for a period of time," Ms. Milas said. "This is an opportunity for artists to sort of have a moment of attention from other people."
Throughout the week, feel free to stop inside the art gallery to acknowledge and admire the creativity and artistry of student artists, as well as the hallway outside, to observe this week's paint chip installation.
Leave a Comment
About the Contributors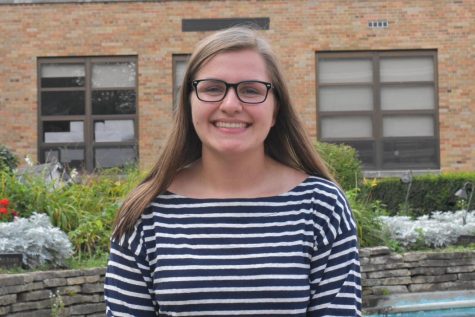 Hannah Anderson, Editor-in-Chief
Hannah Anderson is a senior whose second language is Internet. When she's not working on things for Devils' Advocate, she can usually be found blasting...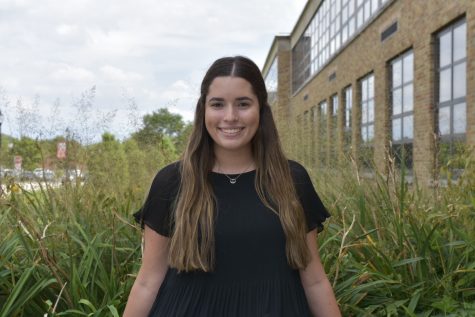 Magdalene Halikias, Photographer
Magdalene Halikias is a current senior and first year photographer "Devils' Advocate." Being an aficionado of music from all decades and all genres...