NAHS goes bananas for Homecoming Art Show
From Monday, Sept. 26 to Friday, Sept. 30, the National Art Honor Society threw their annual Homecoming Art Show in room 216 to accompany the other festivities happening at the school.
Students decided to take a different angle on this year's homecoming theme, "Welcome to the Jungle," and create an installation based on the popular toy released in 1965, "Barrel of Monkeys." The toy features a barrel filled with monkeys in assorted colors that can be linked by their arms to form an extensive chain.
"The [NAHS] organization for the past 15 years has been sponsoring a homecoming art show to coincide with the theme of homecoming," said Ms. Laura Milas, lead sponsor of NAHS. "Some of us have been teaching here a long time, so we've done the jungle theme before. It kind of comes around. We didn't want to have kids that live in the Midwest grappling with what a tropical jungle looks like and other things outside their experience."
Though the installation choice was slightly different than one might expect for a jungle theme, students and staff really seemed to embrace the "Barrel of Monkeys" idea.
"I really like that it was different this year," said Julia Baroni, junior member of NAHS. "Everyone could do whatever they wanted on the monkeys for this show, and it all still feels unified because everyone's work is on monkeys."
On Friday, Sept. 23, NAHS spent the day hanging all of the monkeys up inside room 216, each one different from the last. While some used the opportunity to show their creativity through unique designs, others chose to demonstrate their school spirit and personal interests.
"My favorite part was honestly seeing all the monkeys come together as we displayed them in the gallery," said Wendy Li, senior member of NAHS. "It is so inspiring to see the amount of effort and creativity people have put into their monkeys, and it just makes me feel very honored that people would put so much hard work into them."
The show was a three-dimensional experience, where individuals could move through the gallery and interact with all the different designs that were right in their faces.
"It's [fun] to walk around in, which is what installation art kind of is," Ms. Milas said. "It's a nice way of encountering a space in a new light."
Though the Homecoming Art Show is now over, you can visit the photo gallery on our website for more photos of the installation.
Leave a Comment
About the Contributor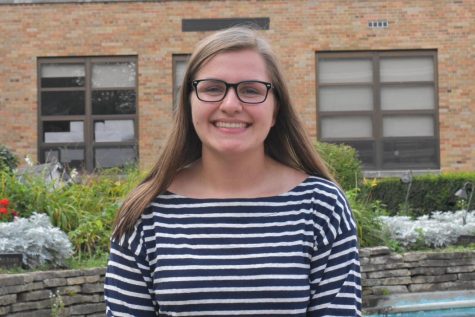 Hannah Anderson, Editor-in-Chief
Hannah Anderson is a senior whose second language is Internet. When she's not working on things for Devils' Advocate, she can usually be found blasting...