Kanye West returns home for Saint Pablo Tour
On Friday, Oct. 7 at the United Center and Saturday, Oct. 8 at the Allstate Arena, Kanye West returned to his hometown of Chicago for his first tour since 2014, the Saint Pablo Tour. After laying low for almost two years in the music world, he decided to return in a way that only Kanye West can, finding a balance between confidence and arrogance as he took the stage.
The concerts definitely qualified more as experiences than just events. The show was set to start at 8 p.m., but West didn't enter the room until 9 p.m. The crowd was becoming restless, so when smoke started billowing out onto the stage around West's silhouette, the volume of the venue increased to a deafening roar that didn't quiet down until he left the building. From the beginning of "Father Stretch My Hands" to the pop culture rants in between to the end of "Ultralight Beam," everyone in the audience knew they were experiencing something special. It was official, Yeezy was home.
Though West was born in Atlanta, Ga., he spent the majority of his youth in the South Side of Chicago. This intense, nostalgic connection to the city is mentioned in many of West's songs, so his fans expected him to go all out and make both of his performances unique.
"I think [the personal connection] improved the show because every time [West] mentioned [Chicago] the crowd loved it," said Ben Schnieders, senior.
West's performance at the United Center was the first one since his wife Kim Kardashian West was robbed of $10 million worth of jewelry in Paris, France on Monday, Oct. 3. He missed two dates after the crime to spend time with his family, so his return to the stage brought a unique vibe to his Chicago performances.
For two nights, fans from all over the Chicagoland area and beyond attended the shows in a fashion that only West's fans could. Taking inspiration from West's latest clothing line, Yeezy Season 4, and his style in general, the arenas were filled with fans looking more like models than concert-attendees.
As I walked through the halls of the United Center, it felt like I was looking at a timeline of West's career. At first I brushed against people wearing cartoon-covered apparel from West's breakout album "The College Dropout." As I got closer to my seat, I passed more merchandise from West's other tours, until I finally noticed fans in Yeezy's current uniform: neutral-toned clothing, camouflage pieces, flannels, and army jackets. The entire audience showed up in style, making the concert feel like a fashion show.
The tour originally kicked off in August, six months after West released his most recent album, "The Life of Pablo." Each of West's albums reflects a different period in his life, and fans were looking forward to see how he changed since his "Yeezus" album that came out in 2013. With every album, West changed his appearance, message, and sound to show his maturity from childhood to fatherhood.
"I've been following Kanye West since first album," said Amanda Klotz, 22, of Orland Park, Ill. "['The Life of Pablo'] is more personal, whereas 'Yeezus' is more of a pump-up one that you play when you go out. With his latest album, you kind of see more of Kanye's life and what society is today."
Although the majority of West's fan base embraced "The Life of Pablo" with complete love and support, many fans were still excited to hear classic songs from his past albums. Those songs are what built West's popularity, so he almost owed it to his fans to play their older favorites.
"I have been a fan since [West's] album 'My Beautiful Dark Twisted Fantasy' came out," said Imaan Qadir, senior. "My favorite part of the show was when he sang all of the throwback songs like 'All Of The Lights' and 'Heartless.'"
Arguably the best part of West's performances was the stage he performed on, which consisted of a platform connected to an intricate pulley system and lighting board. It was designed to hover above the general admission section and move around so that each side of the arena could get a close-up at some point in the show.
"I think it's amazing. Anywhere you sit you feel closer to him, and you feel more of the vibe too," Klotz said. "If you're on the floor, if you're at the top of the nosebleeds, it doesn't matter. I feel like that's why he actually did the floating stage, to be more connected with his fans."
This revolutionary concept made the show much more intimate, as West glided to every corner of the venue. There were no bad seats whatsoever.
After a tour as successful as this one, West probably won't hit the road again for another few years. If you weren't able to attend the Saint Pablo Tour, or if you just want to relive the performance, you can check out the setlist from the show in the playlist above. Until then, Kanye West fans, we're stuck waiting for his next album and for "Yeezy Season" to approach again.
Leave a Comment
About the Contributor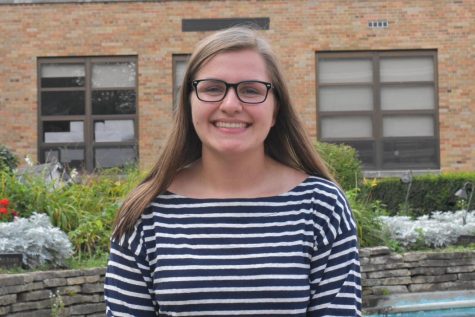 Hannah Anderson, Editor-in-Chief
Hannah Anderson is a senior whose second language is Internet. When she's not working on things for Devils' Advocate, she can usually be found blasting...