"Hamilton" mania takes over Chicago
On Tuesday, Sept. 27, the Private Bank Theatre in Chicago officially opened its doors to the public for the first previews of "Hamilton", the musical that has taken America by storm.
Currently known as the hottest ticket on Broadway, "Hamilton" originally opened on July 13, 2015 at the Richard Rodgers Theatre in New York City. Since then, the show has skyrocketed in popularity, winning 11 awards at the 70th Annual Tony Awards earlier this year.
The demand for tickets was so high that Lin-Manuel Miranda, the author of the book, music, and lyrics for "Hamilton", felt the urge to open another production of the show in Chicago. Despite the musical's seemingly inescapable popularity, many people are still unsure about what it is.
"I'm not familiar with 'Hamilton,'" said Slav Gagarov, senior. "I think it has something to do with the Founding Fathers though."
Miranda jokingly acknowledged this unfamiliarity that many Americans still have when he hosted "Saturday Night Live" on Saturday, Oct. 8.
"I'm fresh off a long run performing in my musical 'Hamilton', which fortunately is one of the biggest hits ever on Broadway, so that means most of you watching at home have no idea who I am," Miranda said.
'Hamilton' tells the story of founding father Alexander Hamilton from his childhood through the fight for his legacy after his death.
Now that the show has come to Chicago, its support is only growing stronger and more widespread. Kate Jacobs, sophomore, is part of the coveted group who has already experienced the show.
"I don't always listen to musicals, but I do from time to time, and I love 'Hamilton' because it's so different from anything I've heard," Jacobs said. "I found out it was coming to Chicago when I was first getting into it, and I got super excited and knew I needed to see it."
Teachers have also embraced the musical as a way of complementing lessons in class. Ms. Sanskruti Patel, social studies teacher, is one of many teachers who have chosen to expose their students to the musical. Though she has known about the musical since it first opened in New York City, Ms. Patel just started to use songs from the show in class.
"If there's a topic that we're talking about in class and we have five or six minutes, I play the songs from 'Hamilton,'" Ms. Patel said. "Even though it was really big in the last year or two, I didn't use it in class. I only made references like 'hey, if you're ever going to be in New York, check it out.' I think now that it's playing in Chicago and more kids have the opportunity to go see it, I made a more conscious effort to tie it into class."
Though "Hamilton" tickets are quite expensive, people may enter a lottery in hopes of winning tickets the day of for the relatively small price of $10. However, even if someone can't get his or her hands on tickets to the show, the album is still an incredible experience on its own that anyone can attain from the comfort of his or her bed, car, or in the case of Ms. Patel's students, the classroom.
"We think of history of being this really nerdy, antiquated, unnecessary thing, but I think [Miranda] has reminded us that there are very powerful stories from history, and they can be expressed in lots of different ways," Ms. Patel said.
Leave a Comment
About the Contributor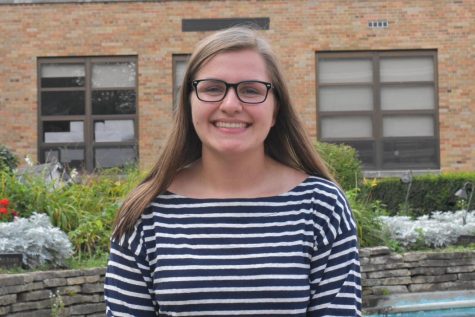 Hannah Anderson, Editor-in-Chief
Hannah Anderson is a senior whose second language is Internet. When she's not working on things for Devils' Advocate, she can usually be found blasting...