"Gilmore Girls" revival to arrive on Netflix Thanksgiving weekend
Though it's been more than nine years since it last aired, the popular 2000s television show "Gilmore Girls" is coming back on Friday, Nov. 25 for a four-part revival on Netflix titled "Gilmore Girls: A Year in the Life."
The original show followed single mother Lorelai Gilmore (Lauren Graham) and her teenage daughter Rory Gilmore (Alexis Bledel) throughout Rory's time in high school and college as they experienced life in the eccentric small town of Stars Hollow, Conn.
Even though from the outside it seemed like a show about nothing in particular, many people were instantly hooked by the quick exchanges filled with pop culture references and witty remarks and stayed tuned for all seven seasons.
"I started watching when I was in my early twenties, so it wasn't when it was on television. It was a little later. I'm obsessed," said Mrs. Gina Chandler, English teacher. "[Lorelai and Rory] are so funny and smart. They have this whole attitude of loving coffee and talking fast that makes them really likable."
The show lasted from 2000 to 2007, but due to contract disputes with the WB network, Amy Sherman-Palladino, creator, and Dan Palladino, writer and director, didn't contribute to the final season. Many fans felt that the last season lacked the wit and heart that the show was known for and pushed for some type of remake made by the two.
The revival was officially announced over the summer with a brief trailer, and since then fans have been buzzing about possible story-lines and the ending that Sherman-Palladino has been envisioning since she left the show. It will pick up in the present day roughly eight years after season seven ended and go through one year in the lives of Lorelai and Rory.
Fans seem most excited to see what's happening in Rory's love life, after she turned down her college boyfriend's marriage proposal in the last season. Her other two ex-boyfriends from high school were confirmed to return, making fans even more eager.
"I'm excited to see the opposing viewpoints from Jess (Milo Ventimiglia) and Dean (Jared Padalecki)," said Maansi Vanani, junior. "I was really happy to see that they were going to be in the revival."
Although there's a lot of enthusiasm surrounding the revival, many people haven't even seen the original show, especially men.
"I know it's a television show, but I haven't really watched it," said Andrius Espinoza, junior. "I may have seen an episode once, but that's it."
Despite this lack of male interest, male comedians Kevin T. Porter and Demi Adejuyigbe started their own podcast in 2014 featuring cast interviews, commentary, and episode recaps called "Gilmore Guys." Though the two were originally hesitant, they now seem optimistic about the revival and are preparing to record special episodes of the podcast surrounding it.
"While I'm not looking forward to reopening the can of worms that is 'which boy is best for Rory,' I'm really excited to reopen the doors to Luke's Diner, because this time we all get to go inside," said Adejuyigbe, in an article for The Guardian. "The show won't find success if it doesn't take its digitally vocal champions into account, so we all have at least an indirect say in what happens there this time around."
Many people are also intrigued by Sherman-Palladino's decision to work with Netflix on the show's brief return.
"I think [Sherman-Palladino] chose Netflix because there's a lot of hype over it right now," said Mimi Wilkemeyer, senior. "Everyone watches Netflix, and if they see there's a 'Gilmore Girls' revival, then they'll choose to watch the show and the revival. It's kind of an introduction for people to watch the original first."
The first seven seasons were placed on Netflix in October 2014, allowing the show to gain a lot of new viewers after airing on the WB and CW networks, and an official trailer for the revival was released Tuesday, Oct. 25. All four parts of the revival will be posted at 2:01 a.m. CT on Friday, Nov. 25, so be prepared to grab your coffee and binge-watch as the Gilmores take you back to Stars Hollow.
Leave a Comment
About the Writer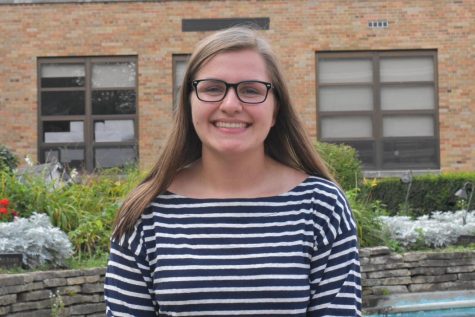 Hannah Anderson, Editor-in-Chief
Hannah Anderson is a senior whose second language is Internet. When she's not working on things for Devils' Advocate, she can usually be found blasting...