Honors Portfolio students experiment with tape for latest project
Normally when winter break ends, it can seem monotonous to return to the same routine. However, in the days after everyone returned on Jan. 10, works of art by Honors Portfolio students began popping up all around the halls of the second floor. Though their sharp black designs are intriguing enough, many were surprised to learn what was used to create them: tape.
"I'm always looking at new project ideas. I saw someone posted a tape mural project that a street artist was working on, and I wondered what we could do at school that wouldn't ruin the wall surface," said Ms. Laura Milas, Art Department Chair. "In this day in age, a lot of art is in the public, so I think students in our program should experience some of those more contemporary ways of working."
Students designed and created each mural over the course of three days before being posted somewhere in the building. There wasn't any specific theme, so each artist had complete freedom over what they wanted to do. Seniors Magali Blasdell, Lizzy Brankin, and Riley Knapp chose to recreate the Chicago skyline above the lockers in the math hallway.
"We knew we wanted to show the diversity and overwhelming buzz of Chicago, so we made sure to have a bunch of different designs on the buildings," Blasdel said. "I thought [the project] would be a chore, but it was actually a lot of fun. It definitely reminded me to branch out into other art mediums, rather than stick to what I'm comfortable with."
Using tape posed various challenges to the artists throughout their mural's creation, especially while scaling and positioning it on the wall. Making intricate and proportional curves was difficult, even with an X-Acto knife. However, each artist was able to overcome any issues and enjoy the experience.
"I loved being able to showcase my work for once," said Grace Manske, junior, who worked with junior Madison Bartuch and senior Stephanie Davis on an abstract piece for the art hallway. "I've never done a mural before and it's nice to be acknowledged by my peers for my hard work."
The project not only allowed students to experiment with tape, but they were also able to work on effectively expressing meaning through their art. Each artist included a typed statement next to their work discussing its intended theme and purpose.
"Part of the process in the Honors Portfolio class is the idea that art is a form of communication," Ms. Milas said. "How they present their work, on some end, should involve the artist's intention of their work and what they intend to see happen, as well as if the audience picks up on what they're communicating."
All of the murals can be found around the second floor, so be sure to look out for them while walking between classes. To learn more about the new and unique projects in the Art Department, check out their website.
Leave a Comment
About the Contributors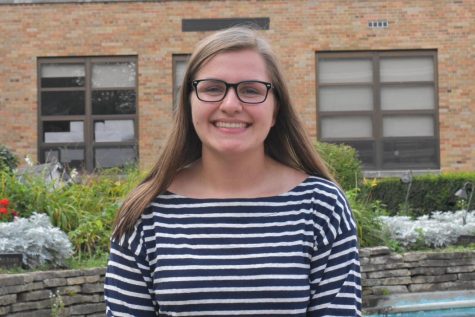 Hannah Anderson, Editor-in-Chief
Hannah Anderson is a senior whose second language is Internet. When she's not working on things for Devils' Advocate, she can usually be found blasting...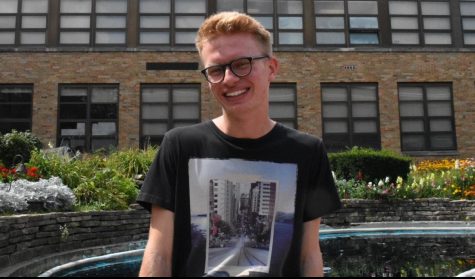 Nick Seda, Section Editor
Nick Seda, a senior at Hinsdale Central, is a section editor for multimedia on Devils' Advocate, whom enjoys traveling the world, taking pictures...