Relive the '80s through its most iconic films
With the recent rise of '80s fashion trends and this year's "Back to the '80s" homecoming theme, many people may find themselves wondering how to get more into the rad '80s spirit. One way to do this is to binge-watch some movies from the era. Here's a list of the most classic films from the 1980s that truly encapsulate the essence of the decade.
The Breakfast Club
Quite possibly one of the most iconic movies from the 1980s, writer, producer and director John Hughes released The Breakfast Club in 1985. The coming-of-age story follows five teenagers, each from different social rings, as they discover themselves, form bonds that will last a lifetime, and overcome the stereotypes that have ruled their high school career, all within a Saturday morning detention.
Though the film offers a great view into what life was like as an American teenager in the '80s with its fashion, music, and dance moves, the basic theme of trying to be understood by both your peers and yourself is what makes this a cult classic.
"The Breakfast Club is my favorite ['80s] movie because it brings together people who would never think of talking to each other," said Mitchell Thompson, junior.
Sixteen Candles
Hughes also wrote and directed another classic, Sixteen Candles , and released in 1984. The movie follows teenager Sam Baker (Molly Ringwald) as she deals with the trials and tribulations that she faces from her family, friends, crush, and underclassmen on her sixteenth birthday.
The comedy is often praised for the sincerity and compassion it shows when displaying the dilemmas that teens faced in the '80s, and is considered more mature than other teen comedies of the era.
More than 30 years later, many of the personal conflicts that Sam Baker faced on her sixteenth birthday still resonate with teens today.
"Sixteen Candles is my favorite [movie] because I've seen it like a million times and I still find it super relatable," said Rachel Distler, junior.
Ferris Bueller's Day Off
https://www.youtube.com/watch?v=R-P6p86px6U&w=560&h=315
In case you missed the screening of Ferris Bueller's Day Off after the Powderpuff game on Sept. 10, you should still make the time to watch this hit movie. Another Hughes released in 1986, this film chronicles teen Ferris Bueller (Matthew Broderick) as he fakes his way through missing a day of school, and his many adventures in downtown Chicago while simultaneously trying to escape being caught by his principal and sister.
The Library of Congress deemed it "culturally, historically, and aesthetically" significant when adding it to the National Film Registry in 2014, only further proving it to be an amazing way to re-live Chicago in the 1980s through the eyes of a spirited teen.
E.T. the Extra-Terrestrial
Steven Spielberg directed the ultimate feel good movie E.T. the Extra-Terrestrial , releasing it in 1982. The film follows Elliot (Henry Thomas), a young boy, as he discovers an extraterrestrial, or E.T., near his suburban home. The challenges that ensue as Elliot attempts to help E.T. "phone home" will have you laughing and crying within minutes.
Though it's a science fiction and fantasy movie, this hit blockbuster will make you relive the '80s by viewing all the pastimes, fashion, and culture through the innocent eyes of young child. It will also force you to empathize for E.T., Elliot, and their extraordinary friendship.
Back to the Future
Director Robert Zemeckis released Back to the Future, another iconic science fiction '80s film, in 1985. The movie showcases amazing comedy and drama as it follows teen Marty Mcfly (Michael J. Fox) as he travels back in time 30 years with the help of Dr. Emmet "Doc" Brown (Christopher Lloyd), and becomes intertwined in the story of how his parents first met.
Many argue that this movie is a defining cultural feature of the 1980s. President Ronald Reagan even referenced it in his 1986 State of the Union Address.
Mrs. Lisa Korbitz, math teacher, who had been in high school during the time of its release, praised the film for its unique story and quality humor.
"I like the Back to the Future movies because they were different, exciting and they were funny," Mrs. Korbitz said. "The actors were very good, and it was a different type of idea. I loved the science fiction aspect of it."
In case you still need to quench your '80s thirst, here are some more films from the era that deserve honorable mentions:
Ghostbusters (1984)
The Blues Brothers (1980)
The Empire Strikes Back (1980)
The Shining (1980)
Raiders of the Lost Ark (1981)
Flashdance (1983)
Risky Business (1983)
Beverly Hills Cop (1984)
Footloose (1984)
Karate Kid (1984)
The Terminator (1984)
Back to the Future (1985)
St. Elmo's Fire (1985)
The Goonies (1985)
Pretty in Pink (1986)
Stand By Me (1986)
Top Gun (1986)
Dirty Dancing (1987)
The Princess Bride (1987)
Heathers (1988)
Dead Poet's Society (1989)
Leave a Comment
About the Contributor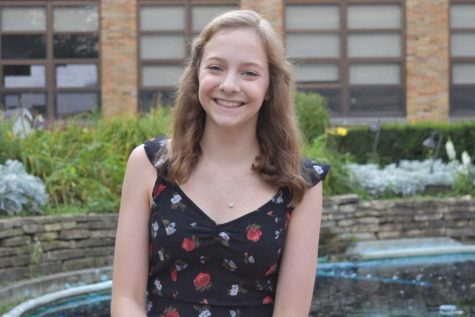 Abby Stockmal, Editor-in-Chief
Abby Stockmal is a senior who, when not scrambling to finish an essay she that she procrastinated, can be found watching reruns of "Friends", making an...