Five shows to watch this fall
While October ushers in colder weather, changes in fashion, and pumpkin-spice-flavored everything, it also ushers in new season and series premiers of the hottest shows.
If you still haven't decided what show to watch this season, here's a list of recommendations that every type of TV viewer can enjoy, especially those who call themselves Red Devils.
For the crime enthusiasts: The Blacklist
Season five of The Blacklist, created by Jon Bokenkamp, premiered on Wednesday, Sept. 27. The show, which has been around since 2013, is a crime and thriller series that follows the story of Raymond Reddington (James Spader), an ex-U.S. navy officer who became a high profile criminal, and FBI profiler Elizabeth Keen (Megan Boone), as Reddington voluntarily turns himself into the FBI and makes a deal for immunity if he gives them a blacklist of the most highly sought after criminals.
The drama, mystery, and tension that each episode of the series encapsulates is one of the main reasons that fans keep watching.
"I would highly recommend [The Blacklist] because it consists of lots of tension and action. You connect to the characters a lot and are always wanting to know their secrets and what happens next," said Colin Pope, sophomore.
You can watch The Blacklist every Wednesday at 7 p.m. on NBC.
For the drama seekers: Riverdale
Quite possibly one of the most hyped and talked about shows of the season, Riverdale, created by Roberto Aguirre-Sacasa, is set to premiere its second season this week. Riverdale first premiered on Thursday, Jan. 26, 2017, and viewers immediately became captivated by teen Archie Andrews' (KJ Apa) and his friends as they explored the dark and evil secrets of their seemingly perfect town of Riverdale.
The many twisting plots and relatable teen characters have made the show a favorite amongst many students, which makes it a perfect series to binge watch during the cold October weekends.
"I'd recommend [Riverdale] because it's a super easy show to get hooked on. The characters are so savage, and there's so much drama," said Emily Condon, junior.
You can watch the season premiere of Riverdale at 7 p.m. on Wednesday, Oct. 11 through The CW or Netflix.
For the foodies: Halloween Wars
Though some might argue that holiday-themed cooking shows are absurd and corny, they are, nevertheless, entertaining. The Food Network's Halloween Wars is no exception to this rule.
There is no better way to get into the fall spirit this October than to watch as four teams are pitted against each other to make the most festive and awe-inspiring edible Halloween display, all for a grand prize of $50,000.
Halloween Wars first ran in 2011, and its seventh season just recently premiered on Sunday, Oct. 1. You can catch new episodes of Halloween Wars every Sunday at 8 p.m.
For the thrill seekers: Stranger Things
https://www.youtube.com/watch?v=vgS2L7WPIO4
Stranger Things, another highly anticipated show this fall, is set to premiere its second season on Friday, Oct. 27.
In case you aren't already familiar with the 18-time Emmy-nominated Netflix original series, it follows how an innocent group of kids' search for their missing friend becomes entangled with the supernatural scientific testing of a nearby laboratory.
Not only does 1980s pop-culture displayed in the series make it a great show to base your Halloween costume off of for this year, but it also is one of the many reasons that students have gravitated towards watching it.
"Stranger Things kind of brings me a sense of nostalgia, even though I only watched it because of how hyped up it was. It reminds me of watching movies like The Goonies and E.T. when I was younger, so it's kind of nice to have that," said Ella Pope, junior.
For the classic fans: Grey's Anatomy
If you don't want to invest yourself in any new shows this season, then you're in luck. The cult-classic show Grey's Anatomy, created by Shonda Rhimes, premiered its 14th season on Thursday, Sept. 28.
In case you aren't already familiar with the 2017 People's Choice Favorite Network TV Drama, it follows Meredith Grey (Ellen Pompeo) and her peers as they navigate the medical and social world of Seattle Grace Hospital, while transitioning from meer interns to residential surgeons.
Although some find the dramatic and heart wrenching plot lines of Grey's Anatomy stressful, others find comfort in them.
"Grey's Anatomy is my favorite because it has so much drama. When I watch it I don't think about school or anything, and it is such a stress reliever. I would recommend it to one of my friends because you become so connected to the drama and the characters," said Claire Williams, senior.
You can watch new Grey's Anatomy episodes at 7 p.m. every Thursday on ABC.
Television is a perfect way to escape the stress of school, so feel free to check out these shows whenever you need a break.
Leave a Comment
About the Contributor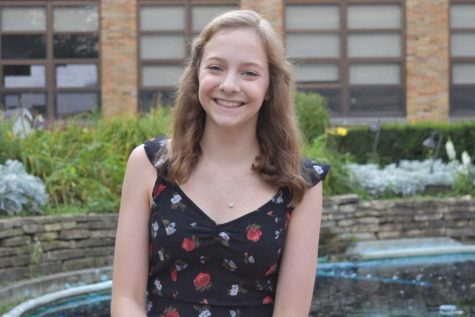 Abby Stockmal, Editor-in-Chief
Abby Stockmal is a senior who, when not scrambling to finish an essay she that she procrastinated, can be found watching reruns of "Friends", making an...