New scary movies to see this October
As October progresses, students might be questioning how to spend their Halloween. However, since the holiday is on a Tuesday this year, many may find themselves flocking to the theaters to watch scary movies as a relatively cheap and quick alternative to get into the Halloween spirit.
"I love watching scary movies all year round.They are so interesting, and unlike other movies, I don't get bored while watching," said Melina Sloane, sophomore.
But some students, such as Mitchell Thompson, junior, avoid the horror genre at all costs.
"I hate [scary movies]. I hate being scared. That's what school is for," Thompson said.
However, whether you enjoy horror movies or not, there is no denying that there are an abundance of great horror movies in theaters this October. Here are three of the most highly anticipated movies of the season.
IT
Based on the 1986 horror novel by Stephen King, IT: Chapter One follows seven kids as they are terrorized by Pennywise, a horrifying clown (Bill Skarsgård), while also facing their own troubles that come with growing up in the late '80s.
Although IT is a remarkable horror film and the highest grossing R-rated horror film of all time, the deep personal storylines of the characters can be enjoyable even to those who don't enjoy scary movies.
"I would definitely recommend it to people who don't like scary movies because it wasn't just pop-up scares. They actually had a story and character development that a lot of scary movies don't have," said Jessica Sprong, senior. "I liked that because it was something that I could get into and actually understand."
IT was released on Friday, Sept. 8, but will remain playing through the Halloween season in local theaters due to its popularity.
Happy Death Day
Happy Death Day is directed by Christopher B. Landon and follows a young college girl (Jessica Rothe) as she's gruesomely murdered on her birthday, only to wake up and relive the horrific experience over and over again until she can find and stop her killer.
Many students are anticipating the movie's premiere, looking forward to its thrilling and slightly comedic, dark plot.
"I'm really excited to go see 'Happy Death Day' because it just looks so interesting and different than any scary movie that I've seen before," Sloane said.
As if the terrifying plot didn't scare you enough, the film was released Friday, Oct. 13.
Jigsaw
This new horror film is yet another reason that students will be flocking to theaters this month. Jigsaw, which was directed by Michael and Peter Spierig, is the latest installment in the Saw franchise. It chronicles a series of murders that closely resemble those of the infamous Jigsaw Killer, even though he's been dead for a decade now.
Not only will Jigsaw attract students because it's part of one of the most well -known and grossing horror franchises of all time, but also because it's an unexpected addition to the horror series that kids have grown up with since the original Saw was released in 2004.
Jigsaw was created with the perfect balance of gore, spook, and fun nostalgia from earlier beloved horror films.
"It's such a perfect Halloween scarefest. It's perhaps not quite as vicious and more fun, which is something we tried to inject into it. But it's still full of good fun gore, that's for sure," said Michael Spiereg, director of Jigsaw, in an interview with Entertainment Weekly. "And, on top of that, it's got a really great mystery, and there's very interesting twists. It's Saw for 2017."
Jigsaw will premiere in theaters nationwide on Friday, Oct. 27.
If you're still looking for movies to get you into the spooky Halloween spirit, you can find a list of student and faculty recommended movies here.
Leave a Comment
About the Contributor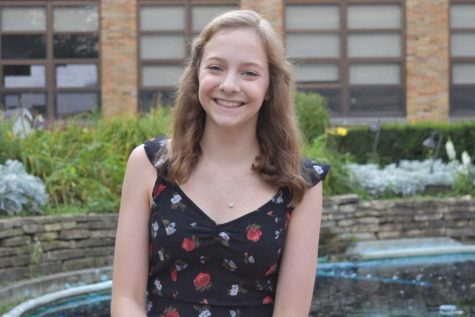 Abby Stockmal, Editor-in-Chief
Abby Stockmal is a senior who, when not scrambling to finish an essay she that she procrastinated, can be found watching reruns of "Friends", making an...