Choir sets the stage with fall concert
On Tuesday, Oct. 24, at 7 p.m. in the auditorium, the Music Department held the Fall Choir Concert, where all four choirs performed for friends, families, and fellow students.
The Treble Choir, Men's Choir, Hinsdale Central Singers, Women's Chorale, and Chamber Choir all performed three songs each on Tuesday. The song selections ranged from folk songs sung in foreign languages, to pop hits, to lesser-known classical-style songs.
"There were a couple Latin songs, and one choir sang a song in Mandarin. My choir sang two folk songs and a song in Italian," said Tim Moser, junior Chamber Choir member.
As if the quality singing wasn't enough to entertain the crowd, there were also dances and featured instruments that accompanied some of the songs. Men's Choir performed a dance with their rendition of the popular '60s song "My Girl" by The Temptations, and there were live flute and percussion accompaniments for the Hinsdale Central Singers' "Flower Drum Song."
Though there was no theme associated with the concert, as opposed to the Music Department's annual Holiday Concert, many of the choirs enjoyed the songs they performed.
"For two of the songs that [we performed], 'El Grillo' and 'Fair Phyllis', we had a lot of fun as a group with and connected while singing even though they are on less serious topics," said Emily Goggin, junior Chamber Choir member. "We also sang 'Ah Loves Depart' which was more of a serious sad song about love. With this we were all able to think about our own experiences and own ways to relate to the text and work as one."
The five choirs that performed had been preparing their songs since the beginning of the school year, and they practiced performing and memorizing them every day in class.
However, in addition to preparing for the concert, students were asked to prepare for other Choir events such as the middle school choir festival that the school hosted on Tuesday, Oct. 17, and auditions for the Illinois Music Educator's Association (ILMEA) Districts competition that occurred on Wednesday, Oct. 11.
"In Chamber Choir we had also been all preparing to audition for ILMEA Districts. We were all learning four other songs for the audition and preparing with other vocal practices to get ready for the auditions. This added a bit of a challenge due to the larger amount of music being learned," Goggin said.
Being one of the first choir concerts of the year, many choir students placed an emphasis on performing well, but also enjoying themselves.
"I think [the concert] went really well because we all wanted to make sure our time singing together was going to make a good impression, and we had fun," said Kristin Mertz, sophomore Women's Chorale member.
Looking back, many students were proud of how they and their friends performed during Tuesday night's concert.
"[The concert] went great. It was awesome to see all the other choirs in action, and one of my friends, Alex Martin, stole the show in my opinion with an operatic solo in one of the pieces at the end," Moser said.
Choir classes will now continue preparing for ILMEA competitions, the upcoming choir and band trip to New York, and their various upcoming holiday events.
The next performance is Jingle Bell Java on Thursday, Nov. 30.
Leave a Comment
About the Contributor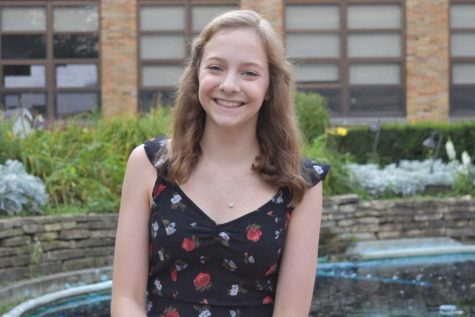 Abby Stockmal, Editor-in-Chief
Abby Stockmal is a senior who, when not scrambling to finish an essay she that she procrastinated, can be found watching reruns of "Friends", making an...