Drama Club makes a splash with Fall Show
From Thursday, Nov. 16 at 7 p.m. to Saturday, Nov. 18, the Drama Club will be staging "Metamorphoses" as its annual Fall Show.
While the majority of past shows performed by drama club have had a linear plot and an easy-to-follow storyline, "Metamorphoses," written by Mary Zimmerman, is a series of vignettes inspired by Ovid's "Metamorphoses." The story chronicles different ancient Roman and Greek myths that are weaved together through common themes of love, loss, and transformation.
"It's sort of a modern but still classical blend of Greek myths. There's some that are super dark and creepy, some sad, and some funny and cute," said Allie Moreton, junior actress. "I love Greek mythology, so seeing all these myths that I love brought to life is super cool."
Students have been preparing for the fall show since early October, with auditions being held on Wednesday, Sept. 20, and the first rehearsals held during the week of Friday, Oct. 6.
Metamorphoses. November 16th-18th. https://t.co/55bWVKMNRI @tessklyg

— Hinsdale Drama Group (@hinsdaledrama) November 5, 2017
Rehearsals for the actors range from one to two hours long after school and are held four times a week. However, as the performance dates have been nearing, the length of rehearsal has been significantly increasing.
Although rehearsals for "Metamorphoses" have focused on running lines and developing characters, they have been particularly challenging due to a unique staging demand: water. Since a central theme of "Metamorphoses" is transformation, the show requires an eight by 10 foot pool of water on center stage for the actors to perform in and interact with.
"In many cases, the water is really supposed to represent that transformative body, and a place where change takes place," said Ms. Erin Lundin, director. "All scenes feature something to do with water, and in most cases, it involves cast members actually in the pool."
However, because the pool of water will not be available for students to rehearse in until Monday, Nov. 13, the cast has had to be flexible when it comes to blocking out and physically preparing scenes.
"Since we haven't actually been able to practice with the water just yet, we've been practicing knowing that that's going to be a hurdle that we hit come [Monday]," Mrs. Lundin said. "We know exactly what we are doing in the water and when, we just haven't actually done it yet."
As well as creating challenges for the cast of "Metamorphoses," the pool has also forced the stage crew to experiment with new materials and techniques to accommodate for the water on stage and in the set design.
"There were definitely some new things we did because we were working with water and the pool, like using foam, and now we are working with plastic on the ground so that when we add the water, nothing gets soaked on the ground, seeps in, and gets wet or eroded," said Dylan Gnat, senior crew member.
In addition to the pool, there will also be onstage seating so the audience can observe the modern portrayals of Greek myths up close.
"We figured we could technically have the pool and then have people out in the audience, but really, you just wouldn't be able to see the water from that angle, and they're really intimate stories, so we just thought that the intimate setting would be a better choice," Mrs. Lundin said.
Although the drama club has performed shows before with onstage seating, such as in last year's September Show, "Henry V", there has been some concern over the safety and comfort of the audience and cast due to the close proximity of the water on stage. Nonetheless, the cast and crew's excitement for the show has not been phased by these concerns, and they have responded to them with lighthearted humor.
"We've been a little concerned about a splash zone, and there have actually been a lot of jokes about selling ponchos for fundraising for drama club, but we're pretty sure the water is going to stay where it should," Mrs. Lundin said.
Due to the limited onstage seating, "Metamorphoses" will be performed four times rather than the typical three. There will be performances on Thursday, Nov. 16 and Saturday, Nov. 18 at 7 p.m., and then at 4 p.m. and 8 p.m. on Friday, Nov. 17. To see a sneak peek, view its promotional video here. 
Students can see "Metamorphoses" for free with an activities pass, or by purchasing tickets for $10 at the door or online.
Leave a Comment
About the Writer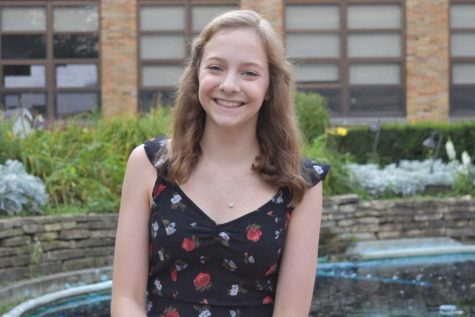 Abby Stockmal, Editor-in-Chief
Abby Stockmal is a senior who, when not scrambling to finish an essay she that she procrastinated, can be found watching reruns of "Friends", making an...