Students experience 'good nights' at Whethan concert
On Saturday, Nov. 11 at 7 p.m., internationally recognized DJ and music producer Whethan performed at Concord Music Hall with many students amongst the crowd.
Ethan Snorek, more commonly known as Whethan, is an 18 year-old who hails from Orland Park, a suburb less than 20 miles away from Hinsdale. He returned to his Chicago home to perform the final concert of his "Good Nights" tour, a tour that began in early September of this year.
Courtesy of Concord Music Hall
Despite his meager age, the young adult has been producing music for some time now and has led an impressive career thus far. Whethan began uploading remixes to his Soundcloud in 2015. Since then, he has performed on tour with The Chainsmokers and at Lollapalooza, and his mix of "Good Nights" has already hit more than 13 million streams on Spotify since its release four months ago.
"I think it's super cool how he's still around our age and his music is honestly amazing," said Claire Kern, junior.
Although his mixed style of electronic, hip hop, and indie rock music has garnered him an immense international following and invitations to perform at South America's Lollapalooza in March of 2018, he also has acquired an immense fan base here as well.
"Pretty much the entire crowd [of the concert] was either from Central, [Downers Grove North], or some other schools in the area," said Hardy Welch, sophomore.
While at other local concert venues it would have been impossible to locate friends and fellow classmates in the midst of a concert, Concord Music Hall was a relatively intimate venue, which proved to only enhance students' concert experiences.
"The venue was smaller than I️ expected, about the size of the cafeteria minus the senior cafe, so everyone was close together, and you were surrounded by friends the whole time," Kern said.
Even though Whethan has been producing music since 2015, many of the students who attended Saturday night's concert were first introduced to his music at Lollapalooza this past summer.
"I've been a fan of Whethan for at least a year now. I saw him at Lollapalooza with my friends and that made me even more interested in his music," said Lily Podracky, junior.
Students were also treated to performances by Ashe and Saint WKND, who opened the concert at 7 p.m. for Whethan, who began his performance at approximately 9 p.m. and ended at 10:30 p.m.
While sometimes opening acts can be slightly underwhelming and anticlimactic, students were pleased with Saint WKND and Ashe's performances and how they prepared the crowd for what was to come.
"[Saint WKND and Ashe] were really good and got the crowd hyped up so that when Whethan came on everyone was screaming and jumping around and ready to party," Welch said.
In case you missed the opportunity to go see Whethan this past weekend, you can listen to some of the music that he performed here.
Leave a Comment
About the Contributor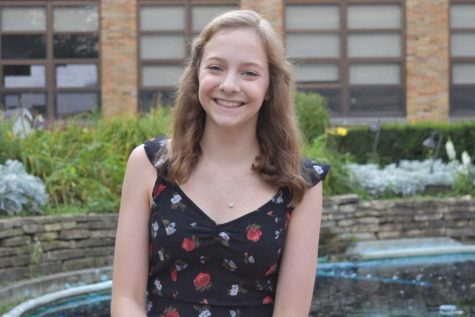 Abby Stockmal, Editor-in-Chief
Abby Stockmal is a senior who, when not scrambling to finish an essay she that she procrastinated, can be found watching reruns of "Friends", making an...