Jingle Bell Java to bring holiday joy
As the aroma of steaming coffee and peppermint flavored pastries fills the air, people gather to take a step back from the bustle of the encroaching holiday season to enjoy a cup of jo' amongst live performances of jazz and holiday music. While you can certainly find this scene in any urban coffee shop, you can also experience it in the school's cafeteria this Thursday, Nov. 30, at Jingle Bell Java.
The Music Department will be hosting this annual event, where choir, band, and orchestra students gather to perform holiday tunes for students and parents while they enjoy fresh coffee and holiday treats.
While other concerts and performances that the Music Department puts on each year are generally much more formal, with students performing in the auditorium in their classic red and white robes, uniforms, or black tie and dress, the Jingle Bell Java includes a casual and personal atmosphere that the audience and performers are immersed into.
With students performing in different areas of the cafeteria, fresh coffee donated by Starbucks, and holiday treats and cookies provided by the performers, Jingle Bell Java aims to recreate the casual and intimate scene of a coffeehouse.
"It's like a coffeehouse because you obviously have the coffee, but also it's in the cafeteria so people are free to walk around," said Kerri Kenney, senior Holiday Winds Member.
Students can expect to see performances from Acafellas, Ladies First, Holiday Winds, members of Chamber Orchestra, and Jazz Ensemble on Thursday. Each group will perform various pieces, ranging from jazzier renditions of songs such as "Stand By Me", to more classical, holiday tunes, such as "Deck the Halls".
"Those who attend [the Jingle Bell Java] can expect lots of variety, since there will be jazz, winds, strings, and choir performances," said Band Director Matt Kurinsky.
Although performing at Jingle Bell Java is mandatory for some groups, such as Acafellas, it is an optional and encouraged opportunity for band members that many students take up.
"I think students volunteer to perform at Jingle Bell Java because not only does it fulfill requirements for honors credit, but because students like performing holiday tunes in the coffeehouse atmosphere," Mr. Kurinsky said.
While one can't go wrong with coffee, sugar cookies, and enthusiastic performances of holiday carols, being able to see students perform festive songs in laid-back setting is what's most appealing about Jingle Bell Java to both the performers and audience members.
"It's great to see fellow classmates and friends performing and expressing themselves [because] this event is pretty different from the other concerts that the choirs perform at, in that it's much more relaxed," said Brody Melia, sophomore Acafellas member. "It's definitely one of my favorite performances of the year."
In case you miss Jingle Bell Java, you can still see the music students perform holiday tunes at the in-school Winter Concert on Tuesday, Dec. 12.
Leave a Comment
About the Contributor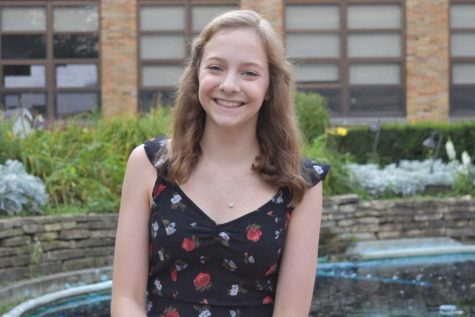 Abby Stockmal, Editor-in-Chief
Abby Stockmal is a senior who, when not scrambling to finish an essay she that she procrastinated, can be found watching reruns of "Friends", making an...