Music students perform through holiday haze
December is often characterized by the holiday season, frigid weather, and perhaps students' least favorite: finals. However, in addition to dealing with the craziness that the month brings, music students have had to face an extra challenge this season due to the countless performances they have had to prepare for.
Simply put, the year is broken up into three sections for the Music Department: fall concert season, winter concert season, and spring concert season. While each season brings its own set of challenges to the table, it is agreed upon that the winter concert season is the most hectic and busy of them all.
"The winter season is definitely super busy. I have so many concerts that are both inside and outside of school," said Kate Siekel, senior Philharmonic Orchestra member. "Also, the concerto competition auditions are coming up in January, so I have to practice pretty hard for that alongside all my other music."
During the winter concert season, which lasts from late October to late December, students who participate in band, choir, or orchestra prepare for numerous holiday performances. However, while some performances are mandatory, such as the winter concert, others, such as Jingle Bell Java, are optional.
Despite what one might expect when considering the abundance of mandatory performances during the winter concert season, many students have actually chosen to perform at the non-mandatory performances in extracurricular music groups such as Holiday Winds, Acafellas, Ladies First, Madrigals, Jazz Ensembles, and Performance Club. These extracurricular groups all have their own outside-of-school rehearsal as well, which only adds to music students' already packed schedules.
Holiday Winds and Madrigals have had a particularly hectic schedule, however, since Holiday Winds has four performances between Thursday, Nov. 30, and Wednesday, Dec. 13, and Madrigal Choir is performing five times between Saturday, Dec. 2 and Wednesday, Dec. 13.
"Madrigals is a much bigger commitment outside of school than the other choirs at Central, however, we have so much fun with what we do," said Emily Goggin, junior Madrigal Choir member. "It is a larger workload because we have many performances during the month of December outside of school in addition to the full department concerts that take place."
In order to prepare for the various performances this December the band, orchestra, and choir have been practicing for various amounts of time. While Madrigals began rehearsing some holiday songs in August, band and orchestra began rehearsing their music for the Winter Concert in early November.
Out of all the performances that music students perform in throughout the holiday season, many look forward to the Winter Concert Assembly on Tuesday, Dec. 12.
The assembly gives the Music Department an opportunity to share select holiday tunes that different ensembles and groups have been performing at their other winter concerts for their peers and teachers.
"I like that we're able to perform in front of the school and show everyone what we're working on in the assembly and how we get to see what the orchestra and choir have been working on," said Nick Lynch, sophomore Wind Symphony member. "I think I speak for the whole Music Department and the music students when I say I'm very grateful for this opportunity to perform in front of everyone."
In case you have missed the previous winter season music performances, you can see students perform their holiday songs at the Winter Concert Assembly at various times throughout the school day on Tuesday, Dec. 12, in the auditorium.   
Leave a Comment
About the Writer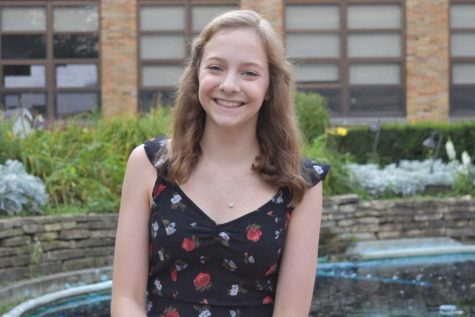 Abby Stockmal, Editor-in-Chief
Abby Stockmal is a senior who, when not scrambling to finish an essay she that she procrastinated, can be found watching reruns of "Friends", making an...