Feminist movements bring controversy to Golden Globes
On Sunday, Jan. 7, the 75th Annual Golden Globe Awards was broadcasted live on NBC to honor the various films and television series of the last year.
While in past the Golden Globes has strictly focused on nominating well deserving pieces of film and television for these prestigious awards, the most recent Golden Globes was entrenched in the social, political, and artistic controversy that has plagued Hollywood in the recent months.
Throughout the year of 2017, hundreds of women came forward with sexual assault allegations against some of Hollywood's most prominent figures, such as producer Harvey Weinstein and actor Kevin Spacey. As a result of the numerous allegations, feminist movements have employed social media and Hollywood as a platform to take a stand against sexual assault.
The 75th Golden Globes wasn't immune to these recent social movements, and the red carpet was used more as a platform for protest than a display for stunning gowns.
TIME'S UP, an organization that provides legal defense funds to survivors of workplace sexual assault, drew the most attention at the Globes for its plethora of celebrity support. Actors and actresses alike dressed in black and wore simplistic TIME'S UP pins to show their support of the organization, and some even went as far as to bring prominent feminist activists as their plus-ones.
However, the gender equality and women's rights protests drew controversy when it came to speeches, nominations, and winners.
One of the most notable moments of the night was Oprah Winfrey's acceptance speech for the Cecil B. Demill Award, an award that honors those who have made significant contributions to the film and entertainment industry.
Winfrey's speech delivered a hopeful and empowering message to women who have been treated unfairly. However, her speech also hinted at a potential political campaign for the famed talk show host.
After her speech, the press was left in a frenzy to try and confirm her potential political plans. This frenzy ultimately brought the debate of whether celebrities should/shouldn't be involved in politics back to light as the public began discussing if they would support an Oprah 2020 campaign.
"It's up to the people," said Stedman Graham, Winfrey's partner, to the Los Angeles Times. "[Winfrey would] absolutely do it."
The TIME'S UP campaign and #MeToo movements brought controversy when it came to the actual nominations for Golden Globes as well. This was most clearly seen when it came time to award Best Director, and only male directors were listed.
Natalie Portman made her discontent with the lack of women included clear when she presenting the nominees by stating, "And here are the all-male nominees."
Barbra Streisand then reinforced the legitimacy of Portman's discontent when she brought to light the fact that she is still the only woman to have won the Best Director award for her direction of Yentl in 1984.
However, Portman and Streisand were not alone in sharing their disappointment of the all-male nominations for Best Director because many of the year's most-acclaimed and top-grossing films, such as Wonder Woman (directed by Patty Jenkins), Mudbound (directed by Dee Rees), and Lady Bird (directed by Greta Gerwig), were all directed by women.
Even students were surprised that female directors weren't recognized for their accomplishments at the Globes.
"I think that Wonder Woman was a super good movie and that the director did a great job with it," said Will Dodson, junior. "I really don't think that gender should've played an important aspect when it came to the [Best Director] award."
THE MOMENT NATALIE PORTMAN SNAPPED #GoldenGlobes pic.twitter.com/GFgIakIaxK

— mean plastic (@meanpIastic) January 8, 2018
More controversy developed throughout the night when James Franco accepted the award for Best Actor in Musical or Comedy for his role in The Disaster Artist.
Franco came under attack shortly after the awards because many found it offensive that he was supporting and adorning a TIMES UP pin on his black suit when he has been accused of sexual assault allegations through the #MeToo movement in the past.
Franco's nomination also brought the Hollywood Foreign Press Association, the group that decides the nominations and winners for each category, under fire for their decision to award someone who has had a murky history of assaulting women.
Despite the controversy, students still appreciated seeing such broad and powerful support for women's rights at the Globes.
"I think it was really moving and amazing to see these hundreds of people joined together to help support [the #MeToo movement] that they believe in," said Stephanie Cochlan, freshman.
The next major awards show is the 60th Annual Grammy Awards at 7:30 p.m. on Sunday, Jan. 28, on CBS.
Leave a Comment
About the Contributor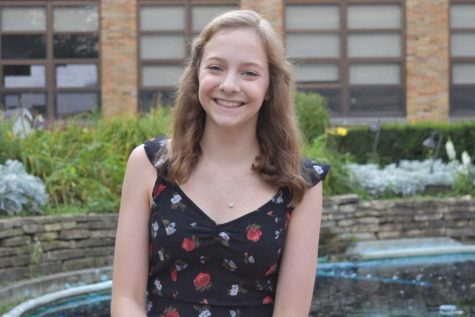 Abby Stockmal, Editor-in-Chief
Abby Stockmal is a senior who, when not scrambling to finish an essay she that she procrastinated, can be found watching reruns of "Friends", making an...