Spread the word about Spring Show
From Thursday, March 1 through Saturday, March 3, the Drama Club will be performing "Rumors" for its annual Spring Show at 7 p.m. in the auditorium.
"Rumors", which was written by Neil Simon, is a play that follows a dinner party in which one of the hosts has secretly fired a gun and accidentally injured himself in the process. The comedy then builds with the varying states of confusion that the party guests have as they attempt to uncover the strange series of events.
"I chose this play for the students this year mainly because of its comedic chaos. It's been at least a few years since we last performed a comedy at Central, and I think it's a nice shift for the students away from all the dramatic and serious productions we've done recently," said Mr. Christopher Kostro, director of "Rumors".
Whereas one might consider the topic of gun violence to be a rather touchy and serious subject, students might be surprised to learn that "Rumors" is actually a comedic play that capitalizes on exaggerating the chaos and dramatic irony of the dinner party.
"[The play] can best be described as a 'slamming door farce' because characters are constantly walking on and off stage and quite literally slamming doors, all while trying to keep up with the dark yet humorous chaos of the dinner," said Hannah Kipperman, junior who is playing the role of Cookie in "Rumors".
However, since "Rumors" is so fast-paced in comparison to the recent productions that Drama Club has put on, the cast found it difficult to memorize and prepare lines. The chaotic nature of the show makes it so almost every line cues another actor to speak, which consequently means that every actor is relying on another to correctly execute their lines so the play can progress.
"Memorization was definitely something that held the cast back in the beginning because since this show is so fast, almost every line said is a cue line, for the next role to speak," Kipperman said. "The quirkiness of characters also made it a little difficult to memorize lines too because you had to adopt their strange mannerisms and habits too."
Memorization and execution of lines is a problem of the past for the "Rumors" cast now though, since they've practiced and rehearsed extensively.
Rehearsals for "Rumors" began on Friday, Jan. 12, shortly after auditions for the show were held on Wednesday, Jan. 10. At the the beginning of the process, rehearsals lasted about two hours every day after school; however, as the show approaches, they have doubled in length and now range from four to six hours long.
In addition to the cast of "Rumors" preparing, the 25 members of stage crew have also had their fair share of work cut out for them in order to be ready for the premiere. Since the setting of the play is at a casual dinner party, crew members have been building an open two-story house that actors can perform in on both levels.
"Although we've built a house on stage for various shows before, we've never done something as large and as stable this two-story house for 'Rumors'," said John Thompson, senior crew member. "I thought the last house that we built was super cool, but I think this set is one of the coolest sets that we've ever made since it's so much larger and we've put so much detail and effort into it."
However, the preparation and time required for the demanding stage design combined with other student events, such as the Variety Show, using the stage have resulted in a limited time for cast members to block out scenes and rehearse on stage.
"I'm really proud of the students because they've adapted well to not having as much time on stage as they're used to," Mr. Kostro said. "If anything, the rehearsal style we have due to these time constraints is similar to a professional theatre, because there, actors only get about a week to prepare on stage as well."
If you plan on seeing "Rumors", you can purchase tickets at the door in the auditorium, or beforehand here.
Leave a Comment
About the Contributor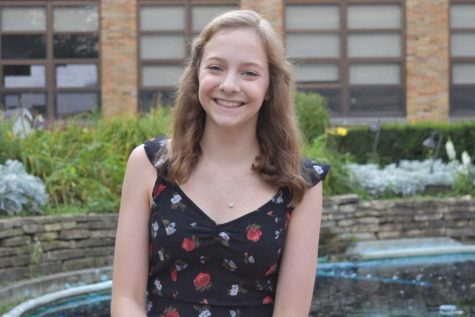 Abby Stockmal, Editor-in-Chief
Abby Stockmal is a senior who, when not scrambling to finish an essay she that she procrastinated, can be found watching reruns of "Friends", making an...