Drama Club has a ball with spring musical
From Thursday, April 19, through Saturday, April 21, the Drama Club and Red Devil Drama students performed "Rodger and Hammerstein's Cinderella" for this year's spring musical, directed by English teacher Mrs. Jaffe, with assistant Mrs. Lundin, English teacher. They performed the musical in the auditorium at 7 p.m. on Thursday, Friday, and Saturday, with an additional matinee option at 12 p.m. on Saturday as well.
Whereas most people are familiar with the classic Disney fairytale version of Cinderella, where an innocent and benevolent girl is saved from her evil family once she tries on her lost shoe, some may not be as knowledgeable of the different version of Cinderella that the Drama Club put on this past weekend.
Rodger and Hammerstein's Cinderella maintains the classic Grimm fairytale, all the while touching on the deeper themes of self-awareness, kindness, and even democracy. Prince Topher (played by Duncan Usher, junior) must find a bride to marry in order to distract those in his kingdom from realizing the inequality and strifes that the lower classes are suffering from at the request of his aids (played by Alex Martin and Raunak Malhotra, seniors).
As one would expect, Cinderella (played by Emma Gordon, sophomore) is aided by her fairy godmother (played by Chloe Bassett, senior) before attending the ball and falling in love with the prince, but she has to flee before the clock strikes midnight and Prince Topher can learn her name. Cinderella then returns home and confides in one of her stepsisters, Charlotte (played by Katie Schaber, senior) that she has fallen for the Prince. Charlotte then confides in Cinderella her love for Jean-Michel (played by Tim Moser), the leader of the revolutionary lower class.
Prince Topher holds another Banquet in hopes of Cinderella returning, and to his fortune, she does. There, she expresses Jean-Michel and Charlottes' requests for the need of better treatment of the lower classes and a Prime Minister. It's at this second ball where Cinderella leaves her shoe, and Prince Topher goes on a search throughout the kingdom until he finds her and they marry.
In most recent years, they have performed "Beauty and the Beast", "The Secret Garden", and "The Little Mermaid", and this year's contemporary performance of Cinderella certainly upheld this fairytale trend.
"We came to the show today because we saw Central's production of The Little Mermaid last year, and absolutely loved it," said Margot Barber, Hinsdale community member who attended Saturday's matinee. "When we saw that this year's production was going to be another fairytale, my daughters and I knew we had to see it."
It's intermission and we are looking for the girl in the white dress…lots of little princesses are trying to help find her! @hinsd

aledrama @ThisIsHCHS pic.twitter.com/ZMph7RITUT

— HCActivities (@HCHSActivities) April 21, 2018
All performances had a relatively filled auditorium, complete with preschoolers, grandparents, and performers' peers. The cast received positive responses from each show's audience; however, this was especially apparent at Saturday's matinee since many children dressed up as princes and princesses and attended a meet greet with the cast afterward in the cafeteria.
Audience members also were able to interact with cast members during the intermission, when they ran through the auditorium asking various show-goers if they had seen which way Cinderella had ran off to as the clock struck midnight, just before the curtain closed.
"The energy from the audience is so very different every night, and a good audience can really make a show special," said Megan Melia, senior who played Cinderella's stepmother. "We had a very vocal and receptive audience Friday night, so playing off of that, taking some more time to really milk those moments was really fun. The matinee with the kids was really fun because the kids kept yelling out really cute things and their reactions, like trying to tell the guards where Cinderella went."
To prepare for the elaborate show that was fitted with royally embellished costumes and a dreamy and transformative set design, the crew, band, and cast members have been rehearsing and preparing since February.
The musical cast had rehearsals every day after school, and at the beginning of the process, after-school rehearsals consisted of separate vocal, dancing and acting rehearsals. However, as the show began to near, vocal, dancing and acting rehearsals began to overlap and last until the later hours of the night as the cast worked to piece things together.
"The latest I was here during tech was just before 10 p.m., which was really awesome because, in years past, we've been kept a lot later for more nights," Melia said. "They really prioritized us getting rest and taking care of ourselves outside of rehearsal."
In regards to acting, one challenge that cast members and the directors faced was adding dimension and complexity to the fairytale characters.
"Mrs. Jaffe and Mrs. Lundin challenged me to bring some depth to [the stepmother]. Giving her a real arc meant reining her in initially and making her nastier and more self-absorbed than mean," Melia said.
In addition to the cast having multiple rehearsals to prepare, there was also an added element to this year's musical that required preparation: the pit orchestra.
Compared to the rest of shows that Central has put on throughout this year, Cinderella is the first to include a live pit orchestra. The orchestra was composed of volunteer students from the Music Department who offered to play and accompany the singers for all of the songs sung throughout the show.
"Pit was just really different because the pit isn't supposed to be the main highlight of the show, so we were playing background music as opposed to concert stuff," said Mitchell Lee, sophomore pit orchestra member. "It was a very cool experience because we were playing different kinds of music and working with people we usually didn't work with though."
Although pit rehearsals weren't as a vigorous as those for cast members, pit students did have to attend after-school rehearsals every day in the month leading up the musical to prepare the score.
If you did not see Cinderella, you can attend the 24 Hour Theatre Project, Drama Club's next fundraiser, on Saturday, May 5 in the auditorium.
Leave a Comment
About the Contributor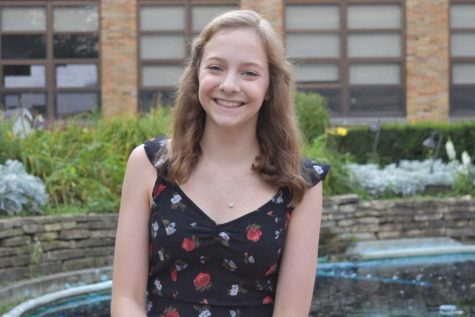 Abby Stockmal, Editor-in-Chief
Abby Stockmal is a senior who, when not scrambling to finish an essay she that she procrastinated, can be found watching reruns of "Friends", making an...