Meet Emma as Ella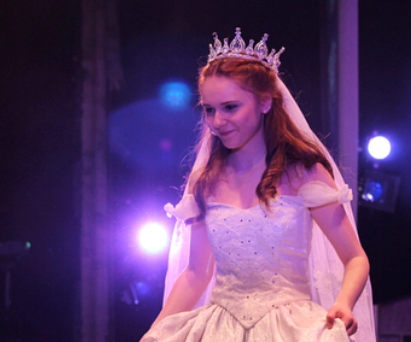 Last year the sword-wielding badass fought off monsters, and several years before that, as a young islander, she fell in love with a wealthy boy she could never have. This, of course, occurred ahead of the time she turned into a small teapot at the age of six.
Now, the wide-eyed sophomore dawns a royal crown. The wild, red hair waving about her face creates a stark contrast to the blonde-haired, blue-eyed monarch that comes to mind when you think of the Disney princess Cinderella. But despite this, Emma Gordon, sophomore, persuades people otherwise. After all, Gordon trained for this type of role nearly her whole life.
An actor since the age of six, Gordon, now 16, has perfected the art of performing. In spite of her young age, she has participated in countless shows from community productions to NBC's Originals.
Although her achievements appear numerous, Gordon recently added the school's production of Rodgers and Hammerstein's Cinderella to her list by landing the lead role. As a sophomore, securing a part, nevertheless the lead, remains no small feat, and from April 19 through April 21 she performed in front of teachers, students, friends, and family.
Gordon can trace her love for the stage back to when her mother signed her up for an acting camp. Soon after this, Liz Tauber, Gordon's mom, worked hard to help realize Gordon's dreams of becoming an actor.
"I've been taking voice lessons since I was six or sevenー around the time I started doing theater. When you are a little kid doing theater most of the time you take all the dance classes and summer camps," Gordon said.
From then on, Gordon has found herself in productions including Annie (Paramount Theatre), A Christmas Carol (Goodman Theatre), Beauty and the Beast (BAM Theatre), as well as the show Chicago Fire, where she featured as a character named Madeline.
Gordon's situation allowed her to flourish in acting, without the pressure of overbearing parents, which could account for some of her success. Gordon said that unlike the attention craving mothers and fathers that the acting world knows too well, her parents have always been supportive while at the same time giving Gordon the independence to make her own decisions.
"They want my acting to be driven by me. My mom is not like a stage mom; she definitely wants acting to be my choice. If I ever decide to stop that's on me, it's always been up to me," Gordon said.
But, it doesn't seem that she plans on stopping anytime soon.
Students acknowledge the drama club as a highly competitive atmosphere with dozens of talented actors vying for lead roles. The extensive acting experience aside, Gordon's disposition sets her apart from the rest.
Her friends say an infectious laugh often swells from her chest, the kind where you can't help but join in, whenever you find yourself around her.
"As a classmate and friend, Emma is funny, outgoing, and smart. She can always put me in a good mood," said Kate Venis, sophomore.
Venis and Gordon share two periods of health together, and although they weren't close before the semester, the pair now share countless memories full of laughter.
A week ago, a particular instance where a Gordon tripped over piles of stray books sprawled about the tiled classroom floor, sparked an uproar of giggling from the two. As the laughing proceeded, Gordon's pale skin blushed pink hues around her cheeks and her crimson eyebrows buckled from the force of her widening smile.
"Emma was really easy to work with because she was always nice and appreciative of the crew," said Phillip Fan, sophomore who worked the set for Cinderella.
Fan controlled spotlights from up on a catwalk. Although during the shows, Fan resided far from the action on stage, the inclusive atmosphere of drama club brought everyone involved in the production together, and though only a sophomore, Gordon has played a role in creating this amorous energy.
"Drama club is a family. We all love each other so much and care about each other and truly we all get to know each other throughout the rehearsal process," Gordon said.
Rehearsals, according to Gordon, occur every day after school until 6:00 or 6:30 p.m. while preparing for a show. This means that Gordon must start her homework as soon as she arrives home.
"If you are not in the scene you can fit in your homework during rehearsal, but usually I can go home and get it done at a reasonable hour," Gordon said.
Even when her rehearsals ran until 10 p.m. during tech week, Emma's high spirits and contagious laughter kept everyone committed to making the most out of the time.
"Every song in the production was beautiful and the lead sang them perfectly. Emma's performance was so memorable," Venis said.
Venis watched the closing performance on April 21 at 7 p.m. While she took her seat around 10 minutes before the opening act, behind the curtain, Gordon was in deep thought, quietly reminding herself to trust her own preparation.
Gordon sucked in air through her mouth and forced it back out from her nose, eyes fluttering closed as the breaths welcomed a wave of calmness. The deep, red curtain trembled just as it began to reveal an extending stage, and she knew it was time.
Two hours later, the curtain stumbled back to the ground and cheers flooded the room.
Her performance, a whirlwind of excitement and nerves, is a blur to Gordon, but to Venis and the surrounding audience, the night remains unforgettable.
After the last of the audience shuffled out of the auditorium, Gordon removed her glittered crown, the light catching it and splashing bits of shimmers on the wall as she lowered it off of her red river of hair. Giving one last glance behind her back at the once illuminated stage, she exits, thinking of the next story she'll help tell.
Leave a Comment