Top movies and shows to watch this summer
With summer quickly approaching, many students have lots of free time where they can relax, hang out with friends, or watch movies and TV shows. Lots of new movies are hitting theaters this summer, and many movies and TV shows have been put on Netflix recently. Below, I have listed the top movies and TV shows to watch that can highlight your summer.
Courtesy of Youtube
 Since the first "Incredibles" movie came out in Nov. 2004, there has been anticipation of a second movie for a decade. Finally, "Incredibles 2" is coming to theaters on June 15. The plot of the sequel focuses on Mr. Incredible's three children and the challenges he faces, as well as Elastigirl's mission to save the day.
"I'm excited about the second "Incredibles" movie to come out, mainly because the first one came out so long ago," said Daren Chen, junior.
FOR THE MYSTERY ENTHUSIAST: "On My Block" 
Courtesy of Youtube
This TV show came to Netflix in March and had generated lots of buzz with its shocking ending. The show takes place in an inner-city Los Angeles and goes through the ups and downs of five friends as they navigate their way through high school. They set out to solve the town's biggest mystery, and end up uncovering many secrets along the way. The show has recently been renewed for a second season.
Courtesy of Youtube
This movie recently arrived at Netflix and featured the popular actors Robbie Amell, Adam DeVine, and Alexandra Daddario. The movie is about Noah (Adam DeVine) who fell in love with Avery (Alexandra Daddario) three years ago. With Avery being engaged, Noah finds a way to travel back in time and change things so that he can end up with Avery. This movie has numerous funny scenes and a heartwarming storyline.
"[When We First Met] was an awesome movie and had such an interesting plot," said Nicole Papanton, junior. "I thought it was going to be a predictable rom-com, but it was actually really good."
Based on the popular book 13 Reasons Why, season two released on May 18, 2018. This show is about a high schooler named Hannah Baker who commits suicide and leaves cassette tapes for her friends and classmates to help figure out why she died. The second season focuses on Hannah's classmates coping with her death and the court case against the school.
Courtesy of Youtube
This movie is about a high school girl who must confront her secret crush after running a Kissing Booth. This movie came out on Friday, May 11, and received high ratings, with a 72% audience score on Rotten Tomatoes. This movie can is available on Netflix.
Watching these movies and shows are a great way to spend your time this summer, whether you are going to a movie theater or watching them on Netflix. To learn more about them, visit their descriptions on IMDb or Netflix.
Leave a Comment
About the Contributor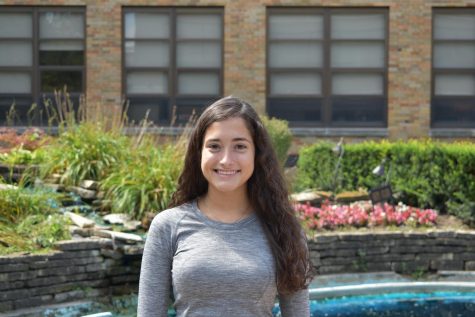 Michalea Halikias, Managing Editor
Michalea Halikias is a senior who can often be found shopping online, listening to music, or hanging out with her friends. She loves watching Master Chef,...