Reviewing The Most Talked About Netflix Originals
If you've been at school the past few weeks, there's a good chance that you've heard the words "Peter Kavinsky", "Insatiable", or "Noah Flynn" being thrown around. With Netflix releasing many original movies and shows the past two months, many students have been talking about them and their characters who have gained popularity amongst teens.
The three most recent, popular shows and movies that came to Netflix are To All The Boys I've Loved Before, The Kissing Booth, and Insatiable. Here are Devils' Advocate's reviews of these talked about shows. 
To All The Boys I've Loved Before:
Rating: 9.5/10
To All The Boys I've Loved Before is a movie about a girl named Lara Jean (Lana Condor) who writes a letter to each boy she has a crush on. She keeps these letters in a teal hatbox, and never plans on sending them. However, when Lara Jean finds out that these letters have mysteriously been mailed, she panics and must quickly fix her situation.
This movie was originally a book by Jenny Han, and as someone who has read the book, I can say that the book was a bit better. I loved the movie, but I just thought that some parts of the book were left out. However, the movie was very entertaining and kept me on the edge of my seat the whole time.
One of the main characters, Peter Kavinsky (Noah Centineo), has become very popular, especially amongst high school girls. In the movie, he is one of the five boys who receive one of Lara Jean's letters.
"I liked this movie a lot because it was very entertaining and the plot was very unique," said Meghan Malec, sophomore. "[The movie] was relatable to a lot of teen girls and was enjoyable to watch."
The Kissing Booth
Rating: 7.5/10
The Kissing Booth is about a girl named Elle Evans (Joey King) who is best friends with a boy named Lee Flynn (Joel Courtney). After running a kissing booth, Elle develops a crush on Lee's older brother, Noah (Jacob Elrodi). When she discovers that the feelings are mutual, she must hide her relationship from her best friend.
"[The Kissing Booth] was a classic love storyline; how [the relationship] is discreet at first but it all comes together in the end," said Jason Liu, senior. "The concept of falling in love with your best friend's brother is really real so it was entertaining to watch."
The reason that I rated this movie a seven and a half out of ten was that I feel that the ending was pretty predictable. Although the movie itself was entertaining, there weren't many plot twists or elements that I found shocking.
Insatiable
Rating: 4/10
The TV show Insatiable is about a teenager named Patty (Debby Ryan) who was bullied for being overweight in the past but lost weight and joined beauty pageants in order to get revenge.
Honestly, this show was definitely not the best show I've ever seen. The ads and commercials for it made it seem like it was about one thing, but each episode strayed further from the initial plot that interested me.
"I would probably rate this show a four out of ten," said Ella Baderman, senior. "The commercial for it looked so good, but I feel like it went really off plot towards the end."
To watch the shows and movies listed above, visit the Netflix Originals category on Netflix.
Leave a Comment
About the Contributor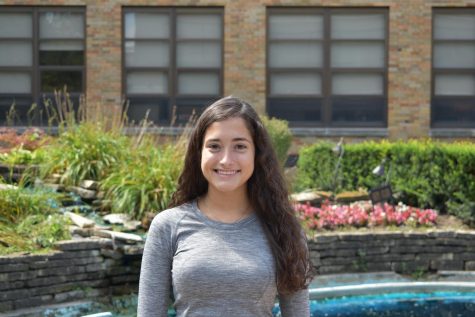 Michalea Halikias, Managing Editor
Michalea Halikias is a senior who can often be found shopping online, listening to music, or hanging out with her friends. She loves watching Master Chef,...