Taking on Homecoming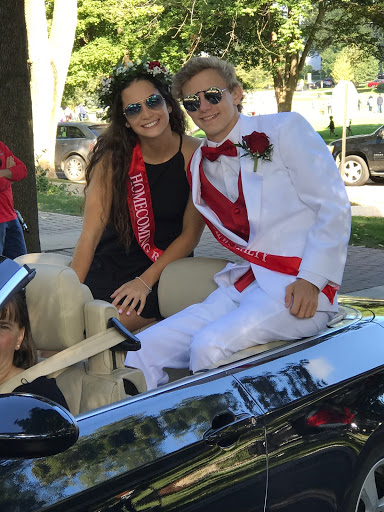 With Homecoming festivities done, there are lessons to learn on how students boogie it on down prior to school dances. Here are some of the takeaways for day of preparations for any school dance no matter if you are on court or simply attending.
At school, being involved is important for school spirit. Being involved means going to the Pancake Breakfast or going to the parade and to the school dance, which happen on the Saturday of the dance. With the day full of activities, it's important to have a plan.
This could include planning out skits like senior Gabby Costello, who was nominated for Homecoming Court, or going down to the school cafeteria to see Mrs. Annette DeAngelis, who works in the Special Education department and coordinate the Pancake Breakfast every year, and eating pancakes. Even staying at school for a couple of hours to decorate the field house for the dance like Grace Piller, junior, goes a long way to show involvement.
"We all started brainstorming with our partners about possible superheroes," Costello said. With superheros being in mind because of the theme, Spiderman Homecoming, Costello and her partner, Thomas Williams, planned on Sharkboy and Lavagirl.
"I thought I was going to pass out before cheer, but going out onto the floor felt so good and hearing everyone cheer and laugh was amazing," said Costello, who also took part in the cheerleading performance before the couple skits.
As for before the assembly and dance Costello had a busy day of getting ready, which consisted of going to school from 7 a.m. until 2:30 p.m. for court and cheer. On Saturday, she had to attend her hair appointment and get her dress and make up ready.
As for Mrs. DeAngelis, her morning was a little different when it started in the cafeteria. She got up early and went to school to start the annual Pancake Breakfast for students, families, and staff to enjoy. Mrs. DeAngelis recommends that everyone should come because the money that is earned will go toward student scholarships.
"I love to see the community members come out," Mrs. DeAngelis said. "[When planning the breakfast], the first thing is to make sure that you have a date before you leave for the next year."
The Hinsdale High School Teachers' Association, known as HHSTA, has also contributed money to the student scholarships. Staff are generous when buying tickets just to donate money for the scholarship fund.
For Piller, her morning was also different. "I'm in Varsity Club, so I started off my day by going to the parade in the Varsity Club group and then right after that I went to the school and I decorated," Piller said. She spent three and half hours of preparation for the school dance to make sure it looked perfect.
As for her getting ready for the dance it all started with an idea of what dress she wanted to get. "I normally start off by going online," Piller said. She found her dress on the first site she visited and made the order.
As for next year's theme, that's still a mystery, although Varsity Club will likely make the decision in the spring. In the meantime, students may have a winter dance to prep and plan.
Leave a Comment