New scary movies to watch this fall
With October coming to an end, Halloween is quickly on its way and so is the spooky spirit that comes along with it. Many students have been searching for ways to spend their Halloween. Students can find that going to their nearest movie theater is a great and convenient alternative for those who aren't fans of trick or treating or costume parties. Not only can you see the following movies on Halloween, but you can go to your local theater to watch them through fall as well.
"Hell Fest"
"Hell Fest" is an American slasher film directed by Gregory Plotkin and about a masked serial killer who turns a horror-themed amusement park into a personal playground, while terrorizing a group of friends.
Not only can you experience the movie at a traditional movie theater, but you can also get the full realistic experience at Six Flags. Fright Fest at Six Flags is featuring a "Hell Fest" themed haunted house, that you can get into by buying a wristband. The wristband allows for entry into all of the haunted houses as well.
"The "Hell Fest haunted house was the first haunted house that I went to and I think it was the perfect balance for those who don't want something too scary," said Aya Beilani, junior.
Hell Fest was released Friday, Sept. 28 but will continue playing at many local theaters throughout October.
"Goosebumps 2: Haunted Halloween"
"Goosebumps 2: Haunted Halloween " was released on Friday, Oct. 12 and directed by Ari Sandel and based off of R.L Stine's "Goosebumps" book series. The movie is about two best friends, Sonny and Sam, who take you with them on their adventure featuring Slappy, a talking dummy.
Goosebumps 2: Haunted Halloween" is an ideal spooky movie for families to watch together for it being kid-friendly and a little scary, without actually terrifying children. It's also a good option for those who like to have comedy integrated into scary films.
According to Google, 91 percent of Google users liked this movie.
"Goosebumps 2: Haunted Halloween" will continue playing at AMC and other theaters throughout November.
"Halloween"
Forty years later, Nick Castle and Jamie Lee Curtis are back in the movie Halloween and are reprising their roles as Michael Myers and Laurie Strode.
Laurie Strode comes to her final clash with Michael Myers, the masked character who has haunted Laurie ever since she escaped his killing spree, which included three people on Halloween night, four decades ago. Ever since Strode has wished for his release in hopes that she would be able to kill him herself.
"Halloween" was released Oct. 19 and will continue playing throughout November.
Leave a Comment
About the Contributor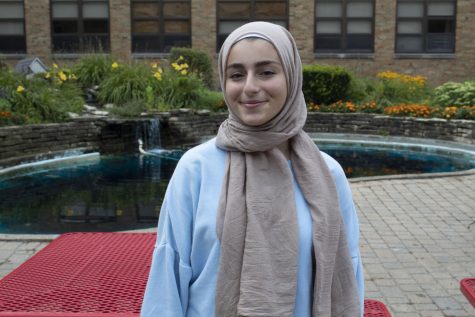 Lana Jawich, Section Editor
Lana Jawich is a senior writer for Devils' Advocate who enjoys painting and playing soccer. When she's not annoying her siblings or spacing out in physics,...