Electrifying musical is perfect for Gods and Devils alike
Identity confusion, parental issues, peer pressure, and academic dilemmas are all things that any high schooler can relate to. But what about lightning bolt theft? Teachers turning into demons and trying to kill you? Greek monsters killing parents? Or, better yet, parents being Greek Gods and Goddesses? Not so much.
These common and not-so-common themes are artistically portrayed in "The Lightning Thief: The Percy Jackson Musical," directed by Stephen Brackett, and is a must-see for students and a critically acclaimed musical coming to Broadway in Chicago.
After celebrating a successful run of off-broadway performances throughout 2017, "The Lightning Thief" is transitioning to Broadway venues for its North American Tour and will be performed at the Oriental Theater the week of Jan. 8, just in time for students to attend before the chaos of second semester begins.
"The Lightning Thief: The Percy Jackson Musical," is an adaption of the bestselling book series "Percy Jackson and the Olympians" by author Rick Riordan. Though there is also a movie series based on the novels, the musical (playbook written by Joe Tracz) stays truer to the book-series and offers more live-action, emotion, rock music, and comedy than any Percy Jackson movie delivers.
"It's not your typical musical. It's not a big flashy production, but we're still able to translate these huge action scenes with CGI [in the movie] into real-life action on stage," said James Hayden Rodriguez, actor most known in the musical for his role as Luke, Percy's peer, and fellow demigod.
The musical starts off with Percy (Chris McCarrell) on a field trip to the New York Metropolitan Museum of Art, where Percy is led astray by a substitute teacher wishing to speak to him in private. It's then that the teacher turns into a hungry demon who tries to kill Percy, who only survives with the help of a special pen-turned-sword thrown to him by his Latin teacher.
After the fight, Percy is unsurprisingly scared, and only grows more confused when he learns that neither his best friend nor his Latin teacher recalls the fight and he is expelled from his high school. When Percy returns home, he explains what happened on the field trip to his Mom, Sally (Jalynn Steele), who is rather forgiving and understanding.
if you're like, wow I'm 16 & haven't been evan hansen OR led a demigod army, remember:

uncle rick was 40 when he published the lightning thief!
fox studios was 75 when they did the lightning thief movie!

you can do great OR terrible things at any age! numbers don't! define you!

— The Lightning Thief (@LTMusical) November 12, 2018
Sally then confesses to Percy that it's time he knows about his father who left when Percy was born. Sally takes Percy to the beach where she met his father, and there they meet Grover (Jorrel Javier) who is a Greek, goat-like protector.
Then, the three are interrupted by a Minotaur, a half-bull half-man creature, who ruthlessly kills Sally. An emotional, furious, vengeance-filled Percy kills the Minotaur, only to quickly pass out from the fight.
When Percy wakes up, he is at Camp Half-Blood, a sanctuary for demigods, or children of mortals and Greek Gods. Not only does Percy make friends (and enemies) with other demigods at the camp, but he also learns that he is the son of Poseidon and is a suspect for Greek God Zeus's stolen lightning bolt.
After advised by Luke (James Hayden Rodriguez), an older demigod and mentor at Camp Half-Blood, Percy, Grover, and Annabeth (Kristin Stokes), a fellow demigod at Camp Half-Blood, embark on a journey to find the stolen lightning bolt in an attempt to clear Percy's name and prevent a war from breaking out between the gods.
On the journey, Percy, Grover, and Annabeth encounter challenges against other Demigods and Gods, attempt to accept their identities as half-bloods and face the perils of growing up.
"It's a show about demigods. It might seem a bit bigger than life, but it's so human and relatable," Rodriguez said. "The emotions aren't just demigods emotions, they're human emotions. I think that's why people like it."
Yet, while the characters are discovering themselves, their powers, and the enchanting world around them, they're accompanied by a lively and refreshing rock-inspired soundtrack (music and lyrics written by Rob Rokicki) and exciting stage numbers, including dancing and sword fighting.
To prepare for the high-quality standards that Broadway musicals demand, the cast has been having eight-hour rehearsals, about six days a week. During these rehearsals, the cast rehearses anything from the meticulous dances, fight sequences, musical numbers, and emotional scenes.
"Dancing, singing, sword fighting- we do it all. An average [rehearsal] day is so much fun because it never really gets monotonous," Rodriguez said. "It comes with a lot of literal blood, sweat, and tears."
Though there are certainly other musicals and shows students can go see downtown this season, "The Lightning Thief: The Percy Jackson Musical" is a heart-warming, exhilarating, and inspiring option for Red Devils' to check out, especially if they're interested in seeing a show that reflects their own experiences of identity and relationship confusion amidst a world of increasing responsibility and risk.
"The show touches on very important themes, the main one being 'the things that make you different are the very things that make you strong,'" Rodriguez said. "This show challenges us to go out and fight for the world we want to live in. Everyone will leave the theater feeling empowered."

If you're interested in seeing "The Lightning Thief: The Percy Jackson Musical," tickets start at $25 and there are performances on 7:30 p.m. every night from Monday, Jan. 8 through Friday, Jan. 11, and performances at 2 p.m. on Wednesday, Jan. 9, Saturday, Jan. 12, and Sunday, Jan 13, with an added 8 p.m. performance on Saturday.
Leave a Comment
About the Contributor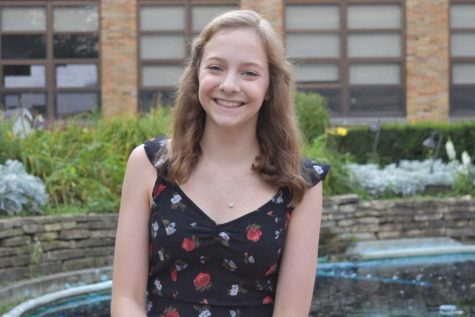 Abby Stockmal, Editor-in-Chief
Abby Stockmal is a senior who, when not scrambling to finish an essay she that she procrastinated, can be found watching reruns of "Friends", making an...