Best romantic comedies to watch this Valentine's Day
Whether you have plans this Valentine's Day or not, watching romantic comedies with a friend or a significant other is a great way to fill your day with laughter and romance. Below is a list of five romantic comedies sure to please this Valentine's Day.
---
Not only is this movie liked by 93 percent of Google users, but it's additionally a favorite among many students.
How to Lose a Guy in Ten Days is about an advice columnist (Kate Hudson) who is trying to write a piece about how to make a man to leave you in 10 days. For her experiment, she unknowingly picks a man who thinks he can make any woman fall in love with him in 10 days. Unsurprisingly, when they meet, their plans backfire and a humorous and lighthearted love story develops.
"My all-time favorite is How To Lose a Guy in Ten Days, I just think it's so funny and I can watch it so many times and never get sick of it, and my favorite part is Kate Hudson. I think she's so funny and is a great person to play the role of Andy," said Ainsley Wallace, senior.
---
Set It Up is a very relatable movie if you are overworked and would like some free time. This movie is about two overworked and underpaid assistants wasting their 20's working for people who treat them poorly and work around the clock.
When they realize how much easier their lives would be if the people they worked for weren't single, they come up with a plan to get their bosses off their backs by setting them up with each other.
"My all-time favorite is How to Lose a Guy in 10 Days, but Set it Up is a close second," said Jasmina Wasti, junior. "I like both movies because you can get wrapped up in someone else's life for a few hours and it's so light and easy and you don't have to think about real life while watching it. They're both just cute overall."
If you're looking for something light-hearted, this is the perfect option. This has just the right amount of intensity without being too cheesy.
---
10 Things I Hate About You is a classic romantic comedy that has just the right balance of emotional and funny moments. Unlike the title, there isn't much to hate about this movie. Everything was done right, from the casting of Heath Ledgers and Julia Stiles, the Shakespeare-inspired plot, to the teenage humor.
10 Things I Hate About You is about a high schooler, Bianca Stratford (Larisa Oleynik), who is forbidden to date until her unpopular and rebellious older sister, Kat (Julia Stiles), gets a suitor of her own. As a result, Bianca and her hopeful boyfriend plot to trick her sister into falling for bad-boy Patrick Verona (Heath Ledgers). What begins as a fake romance quickly turns into something more, though, as both Kat and Patrick begin to see the best in each other.
---
Silver Linings is a witty and insightful movie that's also shown in sophomore health classes because of its realistic depiction of mental illness. It's about a man, Pat Solatano (Bradley Cooper), who returns home from a mental hospital after losing his temper when he caught his wife cheating on him. Pat's life out of the mental hospital gets a bit complicated, however, after he meets Tiffany Maxwell (Jennifer Lawrence), a woman suffering from her own mental illness. Tiffany promises to help Pat reconnect with his wife if he helps her out by entering in a competition as her dance partner. As the two work through this deal and their own mental health recoveries, sparks begin to ignite.
"I loved Silver Linings Playbook because I think it did a great job capturing how family and relationships cope with mental illness and that it is possible to move forward and find help," said Cedra Jazayerli, sophomore.
---
Based on a hugely popular youth adult novel, this high school romantic comedy is on the more emotional side, so make sure to have some tissues nearby. Love, Simon relates to the life of many teenagers, not only those struggling with sexual orientation and self-expression, but also those who have been betrayed or humiliated.
The movie is about highschooler Simon Spier (Nick Robinson) who, despite still hiding the fact that he's gay from his family and friends, has fallen in love with an anonymous pen pal from his school. However, when his secret sexual orientation and relationship is threatened, Simon is forced to confront his relationships with his peers and with himself.
Leave a Comment
About the Contributor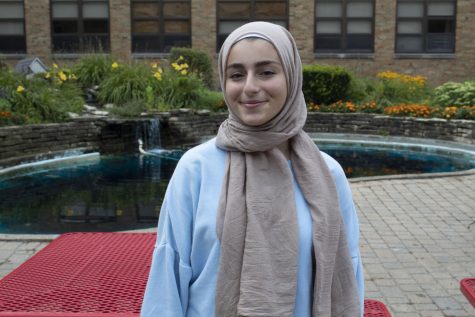 Lana Jawich, Section Editor
Lana Jawich is a senior writer for Devils' Advocate who enjoys painting and playing soccer. When she's not annoying her siblings or spacing out in physics,...